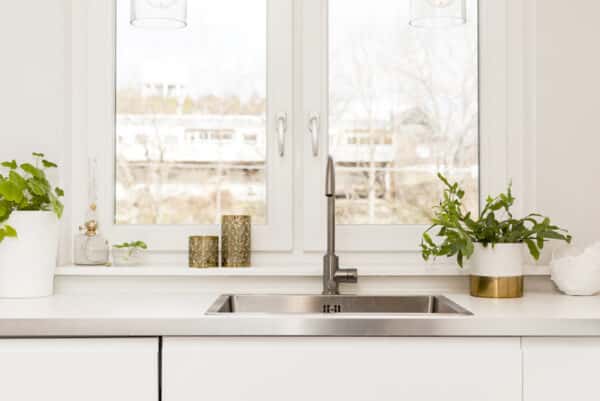 If you want to be eco-friendly, your kitchen is going to be the nexus of that goal. It's where you prepare food, which also mean it's where you have the potential to generate the most waste. It's where food scraps become garbage, where food containers can generate unnecessary waste and where recyclables may or may not get into the recycling bin. Luckily, there are several simple modifications to make it much easier to transform your kitchen into an eco-friendly space.
Have a kitchen compost bucket
One of the neatest products for the kitchen is the indoor compost bucket. These are usually engineered to reduce the stink with airtight designs. They range from classy beige pails to fun neon green buckets, so they're not a total eyesore if you place them on the counter to remember to compost.
At the same time, many compact bins can fit right under the sink. Others actually fit into countertop holes. There are dozens of designs, so there's sure to be one to fit your eco-friendly space and lifestyle.
Keep your recycling bin in sight
In order to remember to recycle, keep a recycling bin right next to your garbage can. Keeping it in sight keeps recycling on your mind. That way, when you're throwing out that item that could be recycled, you can just move your hand a few inches to the side and recycle it instead.
Depending on how design-focused you are, there are tons of recycling bins that don't have to look boxy and blue, or you can just get a basic nondescript garbage can and use that for recycling next to your regular garbage can. This is an easy step toward an eco-friendly space!
Wash your dishes the smart way
One of the best ways to save water while washing dishes is to use a bin of soapy water and another bin of clear water for rinsing. That way, rather than leaving water running or using a ton of water with the dishwasher, you're filling up one bin of water and reusing it. It's a good option if you don't have too many dishes to take care of.
Yet if you love your dishwasher more than life itself, you can also make little adjustments to be more efficient. See if your dishwasher has an "economy" option for conserving water, or change the settings so the dishes air dry instead of heat dry.
Go reusable
Take an assessment of your fridge while you're in the process of making your kitchen green. Is the fridge full of materials you'll just throw away, like non-reusable leftover containers or food that's in plastic bags, for instance?
Think about how you shop and store food, if this is the case. Invest in some washable food storage containers, and bring your own reusable containers while shopping instead of relying on plastic bags.
Remember the energy-efficient appliances 
If you're really in the mood to overhaul your kitchen, it might be the time to get some more energy-efficient appliances. When purchasing appliances, look for EnergyGuide or ENERGY STAR labels.
Also, consider the amount of waste a new or current appliance might produce. While trendy appliances like Keurig machines seem like a good idea ("I only make just the right amount of beverage I need, how efficient is that?"), machines that require single-serve portion packs produce more waste than they save. We've thrown out 9 billion of those little k-cups in 2014 alone, and they're not recyclable. That's a lot of plastic.
Stock up that freezer 
One of the best ways to go green in the kitchen is to buy local and seasonal. You can always freeze vegetables and fruits, or whatever else you find locally.
You might also want to consider buying in bulk to reduce the amount of packaging and travel emissions that food could produce, since it's coming in one giant package instead of several little shipments.