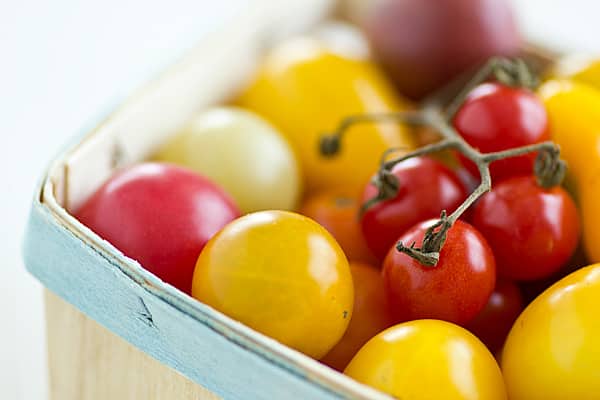 The joke about Whole Foods is that it should really be called Whole Paycheck. I've never found this to be the case–the trick is to shop wisely! Here are my tips for how to save money at Whole Foods.
1. Know the Dirty Dozen
Don't have an all-or-nothing attitude about organic produce. We can't afford to eat organic fruits and vegetables exclusively either, so I usually only buy organic when it comes to Dirty Dozen. What's the Dirty Dozen, you ask? It's a list of the fruits and vegetables determined to have the greatest amount of pesticide residue by the Environmental Working Group. Included in this list are: celery, peaches, strawberries, apples, blueberries, nectarines, bell peppers, spinach, kale, cherries, potatoes, and imported grapes. These are the fruits and veggies that you want to buy organic. Buying local and in-season will help you save money at Whole Foods as well.
2. Bring your own bags
You'll only save a few cents, but every little bit adds up. Plus, it's the eco-friendly thing to do!
3. Concentrate on things you can't buy elsewhere
This is the best tip I have. I can get soymilk anywhere. Newman's Own? They have the entire line at every grocery store in the city. But if I want a package of tempeh, Whole Foods is the only place that has it. So look at Whole Foods not as your sole weekly grocery trip, but as a supplemental one. Buy the staples and such somewhere else and at Whole Foods buy what other supermarkets don't carry.
4. Exception to previous tip: 365 Everyday Value products
The caveat to the whole "concentrate on things you can't buy elsewhere" thing is that sometimes you can find things cheaper at Whole Foods. Remember, Whole Foods has its own organic house brand, while most other supermarkets do not. So if you have a choice between name brand tofu at your local grocery store or 365 Everyday Value tofu, you are likely better off choosing the 365 version. You'll find that some other products are cheaper at Whole Foods as well–know which products these are.
5. Buy in bulk
This is a tip that can save you money anywhere, really. Whole Foods has a fantastic selection of bulk products. Make use of it!
6.  Avoid the bakery, deli, and prepared foods
I know this is a tough one–I love the bakery and prepared foods sections at Whole Foods. But they are crazy expensive! For me, getting anything from either of these departments is a rare treat, not something to do on every shopping trip.
7. Pay attention to coupons and sales
Check out the Whole Deal newsletter before you go shopping. A lot of times you'll be able to find manufacturer coupons to combine with Whole Foods' in-store coupons–ca-ching! And don't forget to pick up a Mambo Sprouts booklet in the front of the store if they have them.
8. Don't deviate from your list. And don't go shopping while hungry.
It's of vital(!) importance that you stick to your list when you go to Whole Foods (unless you find a super deal–then you can make an exception). The easiest way to do this? Go right after you've eaten a meal.
Do you have any other tricks for saving money at Whole Foods? Don't keep them to yourself–share them here!