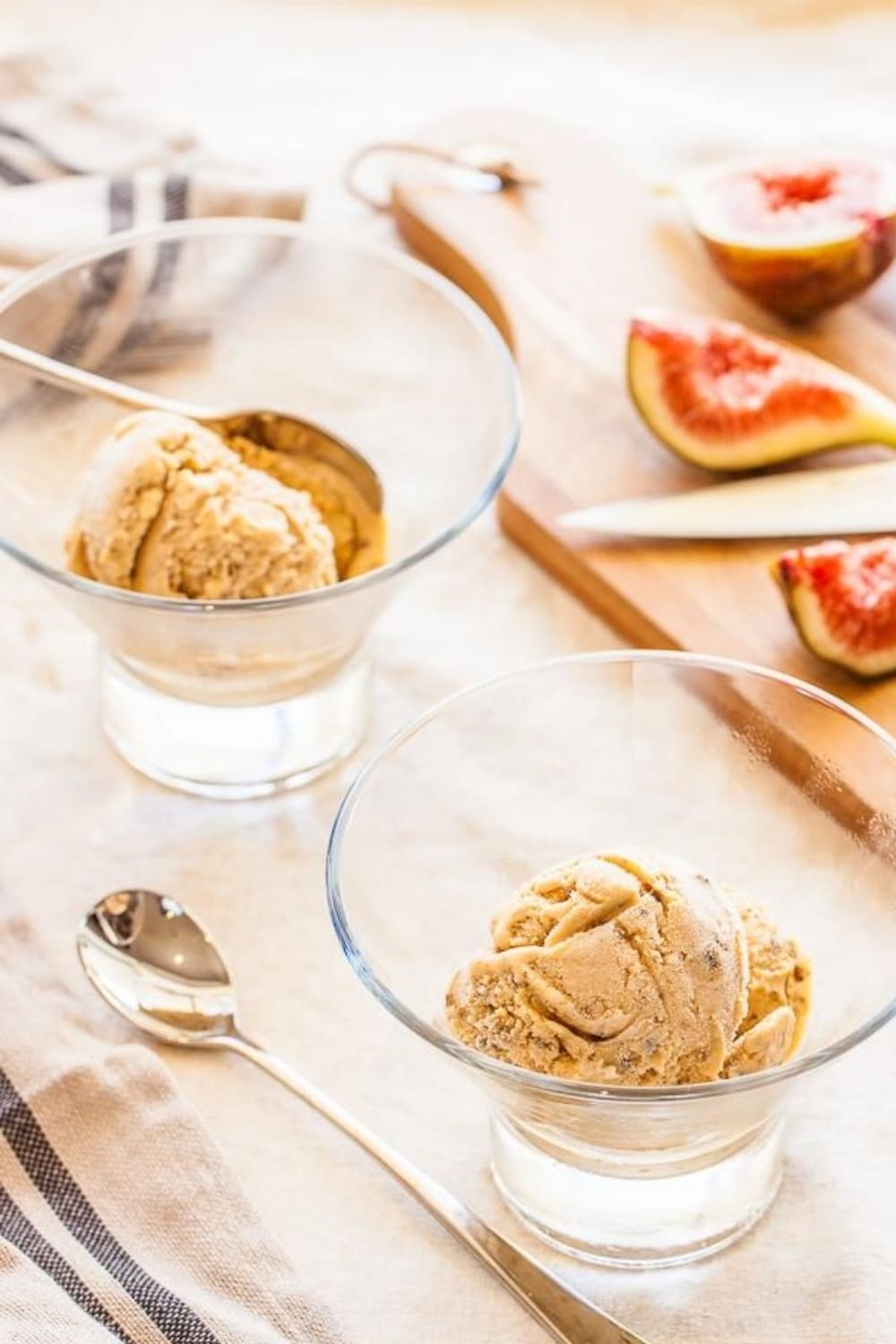 I just had to share with you a recipe I developed for my latest article in Cravings Magazine. Before I stopped buying ice cream and started making my own at home my absolute favourite ice cream was Maggie Beer's Burnt Fig, Honeycomb and Caramel Ice Cream.  I couldn't get enough of the stuff, despite the hefty price tag. I'd buy a tub, and scoop spoonfuls into a coffee mug, my favourite way to eat ice cream, and savour the amazing flavour. Luckily this was another one of those foods that my fiance didn't like, but to be honest I was secretly quite happy he didn't like it as it meant more for me. So my fiance would have vanilla ice cream with sprinkles (yes, he's a big kid) and I'd enjoy my honey roasted fig ice cream.
All that changed once I bought an ice cream maker. My fiance was sceptical that the ice cream would actually get used, but true to my word since I bought it we haven't purchased a single tub of ice cream and I love experimenting with flavours and making my own ice creams and sorbets. There's been everything from spice roasted pineapple ice cream, roasted strawberry ice cream, kiwi fruit sorbet (my youngest stepsons favourite), blood orange sorbet, strawberry sorbet, and grape and pink champagne sorbet, along with frequent batches of vanilla ice cream.
So when it was fig season I couldn't wait to try my hand at making my own version of Maggie Beer's infamous burnt fig ice cream. Not having a recipe to go with I decided to roast the figs coated in honey to bring out their sweetness and to also help caramelise them. They smelled amazing while roasting and tasted even better when I tried one after they came out of the oven. In fact, they would be amazing as is served with a couple of scoops of vanilla ice cream, but I decided to continue on my quest of making fig ice cream. Once the figs were cooled I blitzed them in a food processor and then loosened the mixture with a little vodka. I always use a little vodka in homemade ice creams to help ensure that they are soft and scoopable direct from the freezer. You could of course use a flavoured liqeuer, but I like using vodka because it doesn't interfere with the flavours I'm working on. Of course, you can skip the vodka if you like, especially to make it child friendly, but note that you may need to let the ice cream sit for a few minutes out of the freezer before scooping.
Once the fig mixture was ready I began making the ice cream base. For this I went with an egg custard ice cream, which I just adore as it's so silky smooth. The custard was infused with fresh vanilla and then once it had cooled overnight added to the ice cream maker to churn. When the ice cream is almost done add the fig mixture and allow it to mix through and freeze for a couple of hours before serving.
When my parents were visiting recently we enjoyed some of my honey roasted fig ice cream and before I had a chance to tell my Mum that this was my version of Maggie Beer's Ice Cream she said "This is just like Maggie Beer's ice cream, only better". As to the last part of her comment, I'm not sure if that is just motherly support, but I was pretty pleased with how the flavours turned out.
So tell me, what is your favourite commercial ice cream flavour and have you tried or perhaps successfully reproduced it at home?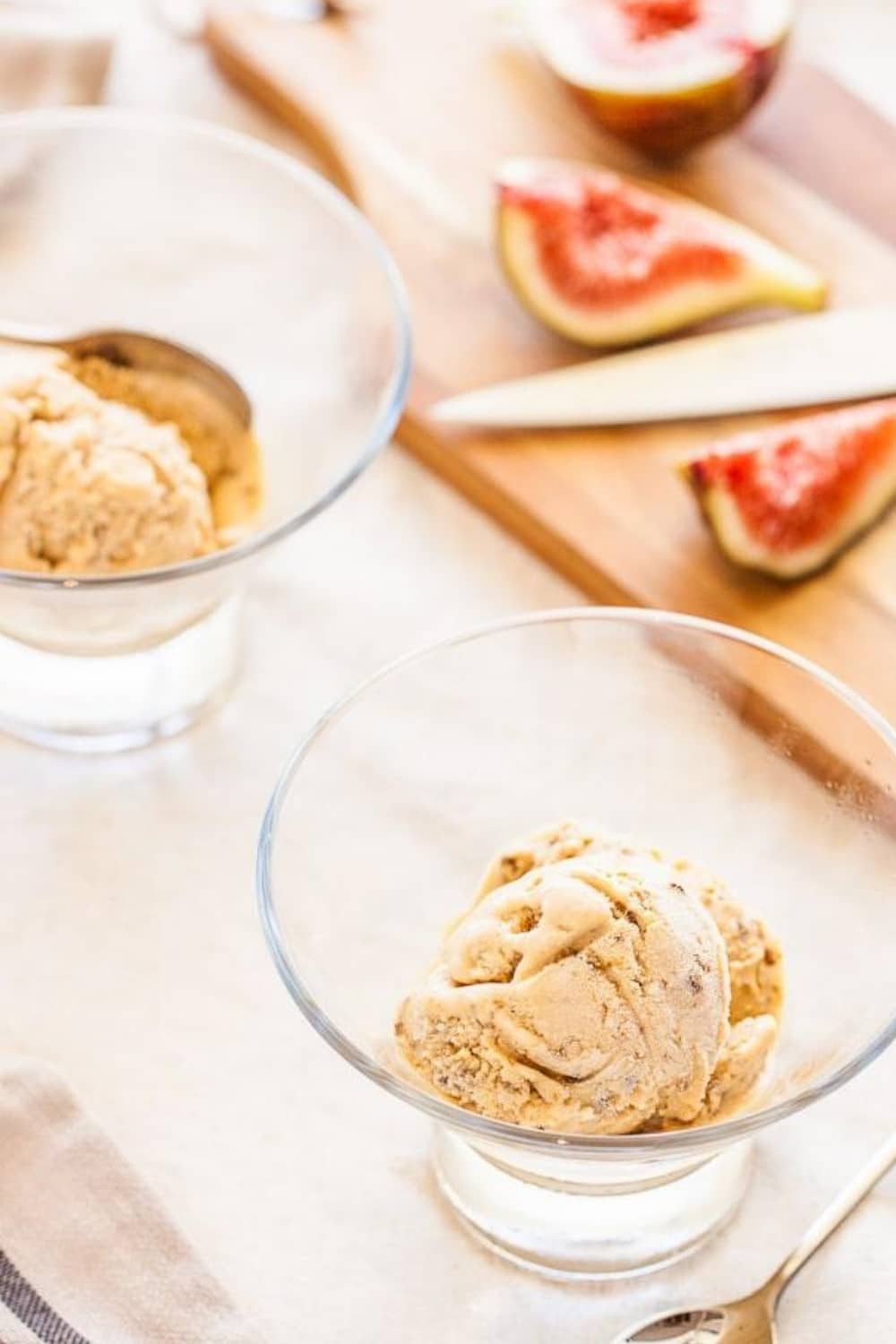 Recipe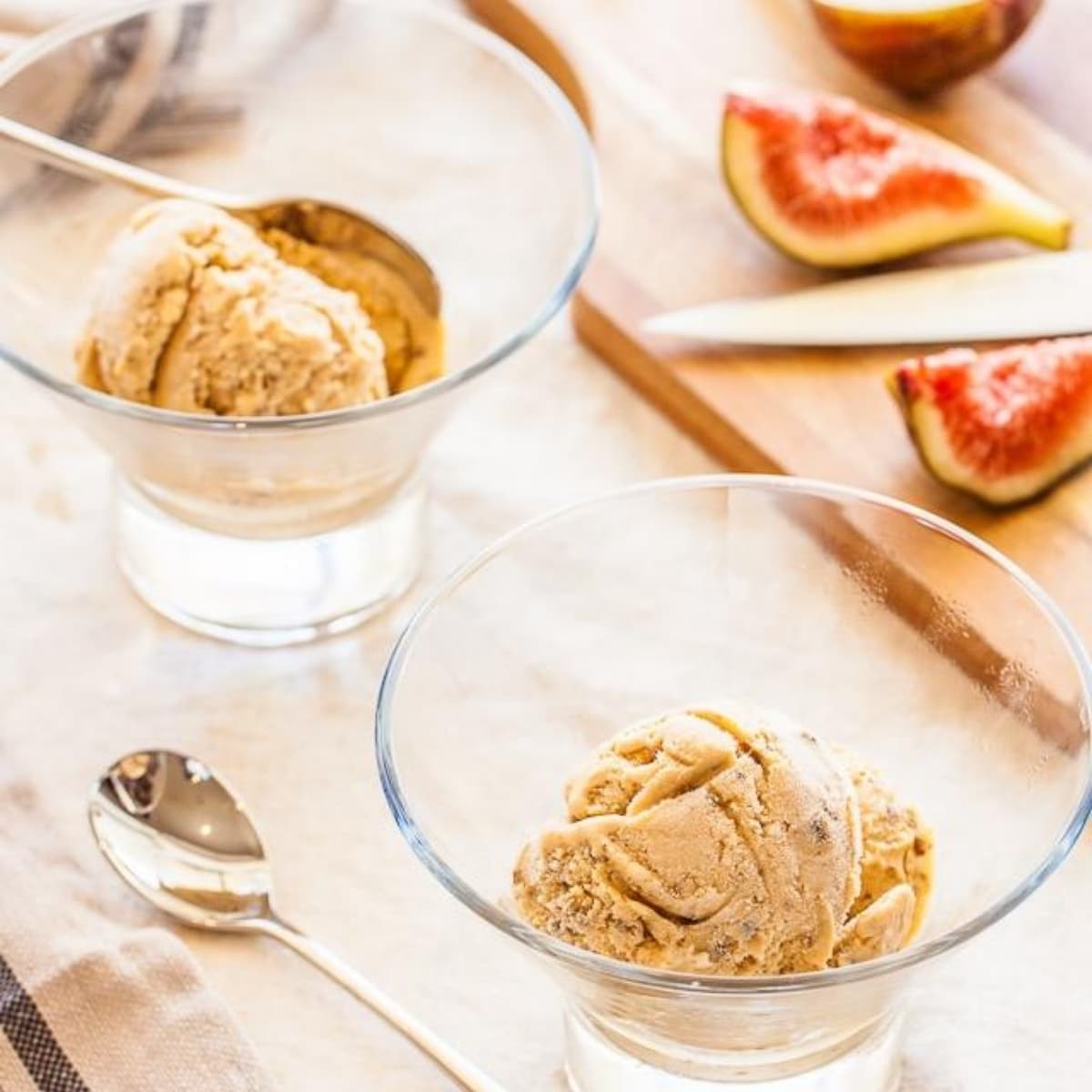 Ingredients
400

g

of fresh figs

quartered

2

tbsp

of brown sugar

1

tbsp

of honey

2

cups

of full cream milk

2

cups

of heavy cream

1

vanilla bean

split and seeds scraped

6

large egg yolks

¾

cup

of sugar

2

tbsp

of vodka
Instructions
Place the milk, cream, vanilla bean and seeds in a large saucepan and bring to the boil. While the mixture is heating combine the egg yolks and sugar in the bowl of an electric mixer fitter with a whisk attachment. Whisk until the mixture is lightly thickened and then gradually add the milk mixture into the egg yolks. Do this slowly so as not to curdle the eggs.

Pour the mixture back into the saucepan and return to a medium low heat and stir and check the consistency by turning the spoon over and running your finger through the mixture that has coated the spoon. If the line from your finger remains clear then the custard is ready. Pour the custard into a large bowl and cover with cling film and refrigerate overnight.

Preheat the oven to 200 celsius (400 Fahrenheit) and line a roasting pan with baking paper. Combine the figs, honey and brown sugar in a bowl and then spread the mixture evenly over the roasting pan. Bake for 15 to 20 minutes or until caramelised and set aside to cool.

Once the figs have cooled place into a food processor and process. Loosen the mixture with the vodka.

Prepare the ice cream maker. Strain the custard through a fine mesh sieve and discard the vanilla bean pod and pour into the ice cream maker and chill according to your manufacturers instructions. When the ice cream is almost done add the pureed figs and allow it to mix through. When finished pack into a large freezer safe container and cover and freeze for 4 hours before serving.
Nutrition
Calories:
425
kcal
Carbohydrates:
38
g
Protein:
5
g
Fat:
27
g
Saturated Fat:
16
g
Cholesterol:
234
mg
Sodium:
56
mg
Potassium:
255
mg
Fiber:
1
g
Sugar:
35
g
Vitamin A:
1240
IU
Vitamin C:
1.3
mg
Calcium:
145
mg
Iron:
0.6
mg
Craving more veg-friendly recipes?
Shop our collection of vegetarian and vegan cookbooks, including our new Vegan Thanksgiving and Vegan Christmas cookbooks!