If you read my meal plans often, it's no secret that I love using prepared Indian cooking sauces. I'm just a fan of jarred sauces, period. Although I would like to spend the time preparing an elaborate meal 7 days a week, it's just not gonna happen. Prepared sauces are the perfect way to bridge the divide between convenience meals and meals made from scratch.
When Stonehouse 27 offered me the opportunity to test their line of Indian sauces and develop a grilling recipe with one of them, I was excited to take on the challenge. I've seen Stonehouse 27 sauces at Fresh Market in Raleigh and I had wanted to try them. Of course, being a vegetarian, coming up with a grilling recipe was a little bit difficult--slather sauce on meat, then grill wasn't really an option. Because I've used Indian simmer sauces on pizza before with success, I thought I'd try a grilled pizza. If you haven't tried making pizza on a grill before, get out there and do it before the summer ends! It's so easy and, contrary to popular belief, you don't even need a fancy pizza stone or anything.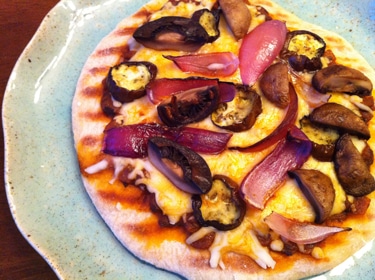 Ingredients
1

medium Japanese eggplant

sliced into ¼ in. rounds

1

small red onion

quartered

4

oz.

button mushrooms

halved

salt and pepper to taste

1

tbsp.

olive oil + more to brush crust

Prepared Pizza Dough

I like the Trader Joe's kind, but you can make your own too

½

c.

Stonehouse 27 Tamarind & Garlic Sauce

¾

c.

shredded mozzarella cheese
Instructions
Preheat oven to 375 degrees.

Toss vegetables with 1 tbsp. olive oil, salt and pepper and roast in oven for about 40 minutes, or until browned. Set aside.

Heat grill until it's very hot. Lightly flour your working surface and roll pizza dough to about 12 inches. (Because we have a small grill, I opted to make 2-6 inch pizzas instead.) Brush one side of the dough with olive oil and place that side onto the grill. Brush the top with additional olive oil. Grill dough until it's cooked on the bottom (about 3-4 minutes)--you want nice, brown grill marks, not charring. Flip dough over and top pizza with sauce, cheese, and veggies. Put the lid on the grill and cook for about 5 minutes more.
This roasted vegetable pizza was so different and fun, but we made the mistake of not heating the grill enough because I was timid about cooking the dough at high heat. The result was that the dough was a little bit raw in the middle. Don't make the same mistake that I did! Go all out and cook the dough on a super hot grill!
In addition to the Tamarind & Garlic, other flavors of Stonehouse 27 Indian sauces include Tomato & Chilies, Cashews & Cream, Spicy Cashews & Cream, Cilantro Coconut, and Dates & Tamarind. Typically when I use simmer sauces, I like to make them with some combination of proteins and vegetables. I made the Cashews & Cream sauce with roasted cauliflower, onions, and chickpeas and the Cilantro & Coconut sauce with sauteed red potatoes, tempeh, and green onions--I served both over brown rice for super easy, filling meals. The thing I love about using cooking sauces is that there are so many possibilities and, by using pre-made sauce, the most time-consuming part is already done for you.
Where can you buy it?
If you live in the Raleigh area, Stonehouse 27 sauces can be found at Whole Foods, The Fresh Market, and Food Lion. Otherwise, hop on over to the handy dandy
store locator
on the Stonehouse 27 website.
…but you can win it here too!
Stonehouse 27 has generously offered to give one Type A Housewife reader a sampler that includes all six varieties of their Indian cooking sauces! Awesome, right? Follow the instructions below for your chance to win.
How To Enter
I am now using Rafflecopter for my giveaways! Leave the mandatory entry as a comment on this post;
all other entries should be done through the Rafflecopter form.
If you don't do the mandatory entry, all of your subsequent entries will be disqualified. Commenting that you want to win, that you like this product, or saying you'd like to try every variety DOES NOT fulfill the mandatory entry.
Mandatory Entry: Go to the Stonehouse 27 website and tell me which flavor of sauce sounds best to you and what you'd use it for.
Things You Should Know:
One winner will receive a sampler of six Stonehouse 27 cooking sauces.

Entry open to anyone 18 years of age and over, one entry per household.

Open to those in the US only.

Giveaway ends on Wednesday, August 31 at 12:01pm EST.

Winner will be chosen via random.org

Because I know emails can get lost in the ether, I will email the winner twice. If I don't hear from you within 24 hours of the first email, I'll try again. If, after 48 hours, I still haven't heard from you, another winner will be chosen.

Winner will be announced in the Rafflecopter form on this page

I will check to make sure the winner did not cheat by entering under multiple accounts/email addresses. So really, don't even try it. Cheating is not a good look.

Disclosure: I received a sample from Stonehouse 27 to facilitate this review, but all opinions are my own--I only review products on my blog that I truly love and recommend to my readers. No monetary compensation has been received.
Thank you to Stonehouse 27 for sponsoring this giveaway!