Have you ever heard of the Baader-Meinhof phenomenon? Basically, it states that when you go your whole life without knowing about something, then you learn about it, BAM. It. Is. Everywhere.
As such, I feel like it is my obligation to warn you that if you forge ahead in reading this post and learn all about the wonders of burrata, all of a sudden you will see it on every menu, every food blog, every grocery store aisle, and eventually on your refrigerator shelf at all times. I'd offer an apology for gateway-ing you into this wacky burrata-filled universe, but it's one of the best cheeses I've ever had in my life, so I'm not particularly sorry. Just being honest.
For those who haven't yet been initiated into the Burrata Lovers Fan Club, I like to describe it as a ball of mozzarella stuffed with the creamiest ricotta you can imagine. But creamier. In actuality, it is mozzarella that is stuffed while still warm with cream and more mozzarella. The cream thickens as the mozzarella cools, so when you slice into it, out falls a rich, buttery delicious filling that you will be tempted to lick straight from its mozzarella shell. (Go ahead, I won't judge you.)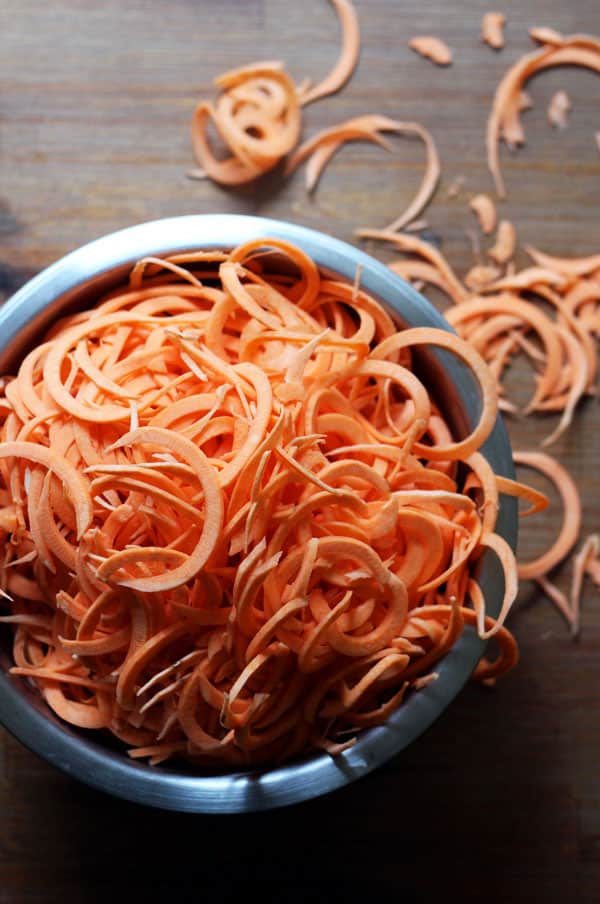 Burrata can be used in just about any dish that mozzarella can, but with the added bonus that its creamy insides can act as a sauce. It is the perfect topper for pastas, pizzas and even salads! 'Tis the season of indulgence, however, so I've been trying to stay on the straight and narrow with my weeknight dinners to balance out weekend treats. Since I knew giving up burrata entirely would be out of the question for me, I decided to find a way that I could enjoy it that was a little bit on the lighter side.
Spiralized veggie noodles are all the rage these days, and for good reason. They are naturally gluten-free and give you the feeling that you're eating pasta without all the carbs, and with more nutrition. I'm new to the world of spiralizing, but when deciding what veggie noodle I wanted to pair with burrata, I headed straight for the sweet potato. The slight sweetness of these noodles pairs perfectly with the creamy burrata and the slightly bitter Swiss chard. The whole dish is brought together by a spicy, garlicky olive-oil sauce that is made in the same pan as the sweet potato noodles.
All it takes is one bite, and you'll be hooked. The Burrata Lovers Fan Club welcomes you.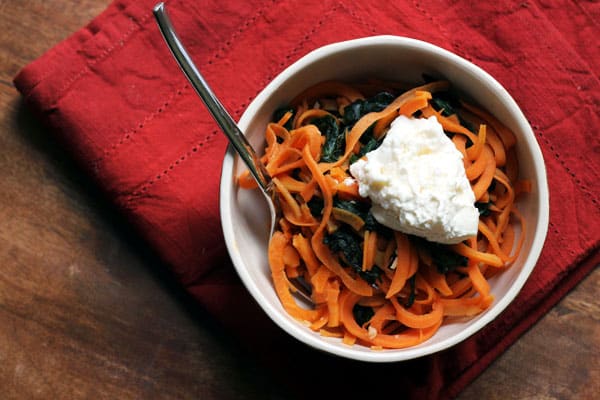 Ingredients
2

tablespoons

olive oil

4

cloves

garlic

minced

1

teaspoon

red pepper flakes

3

medium sweet potatoes

peeled and spiralized using a spiralizer

1

cup

vegetable broth

1

bunch Swiss chard

leaves coarsely chopped and stems discarded

Salt and black pepper

to taste

8

ounces

burrata cheese
Instructions
Set a large pot over medium heat. When hot, add the olive oil. Add the garlic and red pepper flakes to the pot and saute, stirring, until fragrant, about 30 seconds. Stir in the sweet potato noodles and cook, stirring frequently, for 3 minutes, or until lightly seared.

Lower the heat to medium-low and pour in the vegetable broth. Cook, stirring frequently, until the sweet potatoes are tender, 8-10 minutes. In the last few minutes of cooking, stir in the Swiss chard, cooking until wilted. Season to taste with salt and black pepper.

Divide the sweet potato noodles and chard among 4 serving bowls. Tear the burrata into four pieces and top each bowl with a mound of the cheese. Serve.