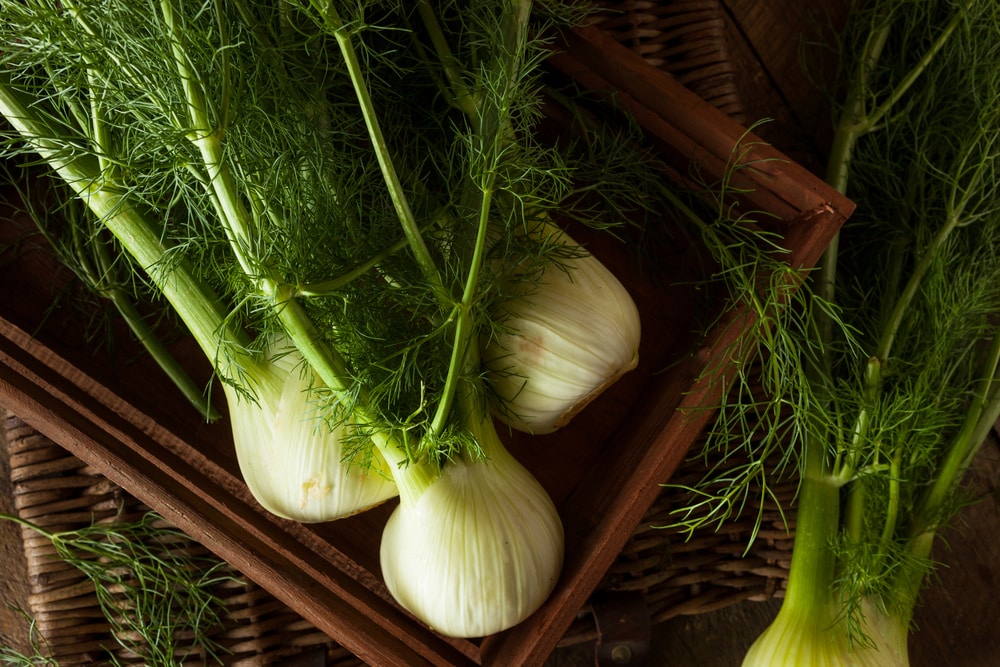 Fennel is a delicious vegetable with great potential that many people may not realize. Every above-ground part of the plant can be used for culinary purposes. All of the parts have a slightly licorice flavor, but it is not intense or overpowering except in the seeds. The Licorice flavor is subtle, and it is more pronounced when eaten raw than when it is cooked. The fronds are an herb that could be described as dill's wallflower cousin that likes to sit in the background, yet brings a certain interesting element to the party.  The bulbs are very similar to celery in it's structure, and can be used raw or cooked. The fronds and bulbs can be used in several applications that can add some great vegetarian dishes to your repertoire.
One easy idea for a great and easy recipe is fennel salad. This salad has grown in popularity over the last few years, and it utilizes both the bulb and the fronds. Chop the fronds finely, and slice the bulb in thin slices. A mandolin works great for this, but use the hand guard and be careful! Toss the two together with a drizzle of olive oil, a squeeze of lemon, and some salt and pepper. You can add citrus segments and honey for a fresh and sweet twist. This preparation is great with heavier baked pasta dishes, or anything off of the grill. 
Get the recipe: Italian Fennel Salad
Another great dish is roasted fennel bulbs. Cut the bulbs into lengthwise quarters, and slice an onion in half and then into thin slices. Toss them with olive oil, garlic (sliced or minced), salt, and pepper. Place in a roasting pan or on a cookie sheet. Roast on 400 degrees for 25-30 minutes. Browning is a good thing, and it will increase the flavor a lot. Serve this  as a side dish with anything. For those pescatarians out there, this is great with fish. You can also toss a little balsamic vinegar with the mix before roasting to increase the sweetness and acidity.
Get the recipe: Roasted Fennel
Fennel is a popular vegetable in Italy, and that is the inspiration for this fennel and tomato pasta.
1 Fennel bulb sliced thin
1 Onion halved and sliced thin
1 Clove of garlic minced or sliced
½ Cup of dry white wine
2 Roma tomatoes. seeded and diced OR 1 can of diced San Marzano tomatoes with half of the liquid drained.
5 Leaves of fresh basil chiffonade
1 Tablespoon of fresh fennel fronds roughly chopped
Salt and pepper to taste
2 Servings of cooked pasta of your choice
Sauté a thin-sliced bulb and a thin sliced onion in a medium-high skillet with olive oil and salt until it is golden brown. Add fresh minced garlic and cook for a minute until the garlic releases its aroma. Deglaze the pan with white wine and reduce the liquid until it is almost gone. Add seeded and diced Roma tomatoes, or San Marzano tomatoes to the pan and bring to a simmer. Season with salt, pepper, and a chiffonade of fresh basil leaves and/or chopped fennel fronds. Serve over your favorite cooked pasta with some grated parmesan cheese (optional). Add crushed red pepper for a little heat. 
These are just a few ideas of how to use this delicious vegetable. Fennel is great raw or cooked in soups, casseroles, salads, and pasta dishes. It is versatile and can add a fresh or earthy element to a dish depending on how you treat it. Give fennel a try, and don't be afraid to get creative with it. Fennel can become a flavorful addition to your cooking.