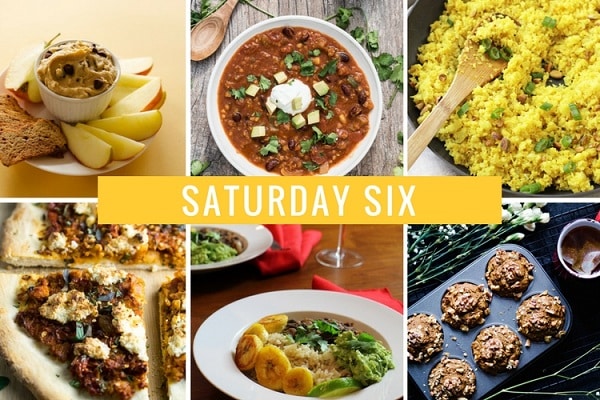 Every Saturday, we highlight some of our favorite submissions from Potluck. Here are this week's picks:
Chocolate Chip Cookie Dough Hummus // It's totally okay to eat this cookie dough right from a spoon! Get the recipe from Live Eat Learn →
Turmeric Cauliflower Rice // Cauliflower rice gets a burst of color and a dose of healthy anti-inflammatories with the addition of turmeric. Get the recipe from Cook Nourish Bliss →
Boozy Black Bean & Rice Bowls // A simmer in some beer makes the beans in these vegan bowls irresistible. Get the recipe from Cadry's Kitchen →
Red Lentil Chili // Spring may have arrived, but it's still pretty darn cold out there. This hearty vegan chili is pretty much guaranteed to warm you up! Get the recipe from Vegan Family Recipes →
Chai-Spiced Banana Walnut Muffins // The addition of some tea and warming spices make these banana muffins perfect for springtime brunches. Get the recipe from Spice + Sprout →
Sicilian Cauliflower Pizza // Tender cauliflower, sun-dried tomatoes, and creamy almond ricotta are piled high on a crispy crust to make this mouthwatering vegan pizza. Get the recipe from Yup, it's Vegan →
Want to share your recipes with the Oh My Veggies community? Join Potluck and submit your recipes!