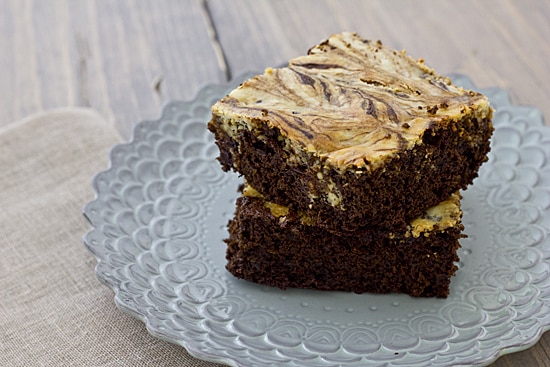 Yesterday I spent more time than I'd like to admit working on redesigning my blog. I took a basic template that I found elsewhere and started playing with the HTML in order to personalize it. Of course, thinking I'd be able to finish it this weekend was a wee bit ambitious--I'm going to put it aside and plan on going live with it next week. Which probably means that it will go live two months from now.
I did manage to squeeze in some time for baking yesterday. In my ongoing quest to use up pantry items before we move in June, I found a recipe for Chocolate Gingerbread Bars in Everyday Food that used several ingredients we had on hand--we only needed to buy sour cream and eggs. This alone is enough to make any recipe a winner in my book. Then I added a cheesecake layer on top of the chocolate gingerbread to make these Chocolate Gingerbread Cheesecake bars. In my head, I had a vision of perfectly marbled bars, but apparently I have no marbling skills because they turned out more muddled than marbled. But they were tasty! And that's what matters, right?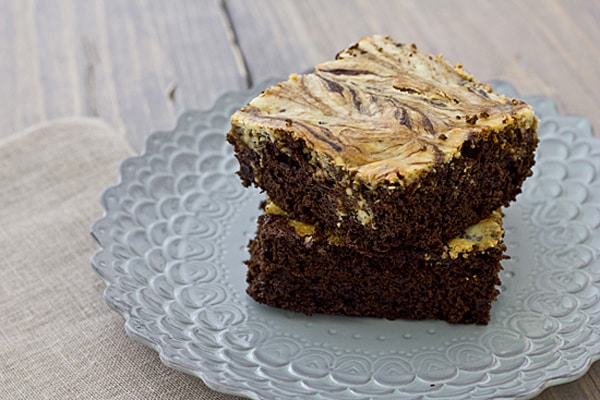 Ingredients
4

tablespoons

unsalted butter

melted, plus more for pan

¼

cup

unsweetened cocoa powder

¾

cup

all-purpose flour

1

teaspoon

ground ginger

1

teaspoon

pumpkin pie spice

½

teaspoon

baking soda

½

cup

packed dark brown sugar

¼

cup

unsulfured molasses

2

large eggs

¼

cup

sour cream

8

oz.

cream cheese

softened

⅓

c.

sugar

1

tsp.

vanilla

¼

cup

mini semisweet chocolate chips
Instructions
Preheat oven to 350 degrees. Grease an 8 inch square baking pan with extra butter.

In a medium bowl, whisk together cocoa, flour, ginger, pumpkin pie spice, and baking soda.

Using a hand mixer on low speed, beat together butter, brown sugar, molasses, 1 egg, and sour cream in a large bowl. Gradually add flour mixture and stir until just combined.

In a small bowl, combine cream cheese, remaining egg, sugar and vanilla. Beat with hand mixer on low speed until mixture is smooth. Fold in chocolate chips.

Pour gingerbread batter into baking pan. Pour cheesecake mixture on top of gingerbread; marble with a butter knife.

Bake until toothpick inserted into center of bars comes clean, about 30-35 minutes. Cool on a wire rack.
Nutrition