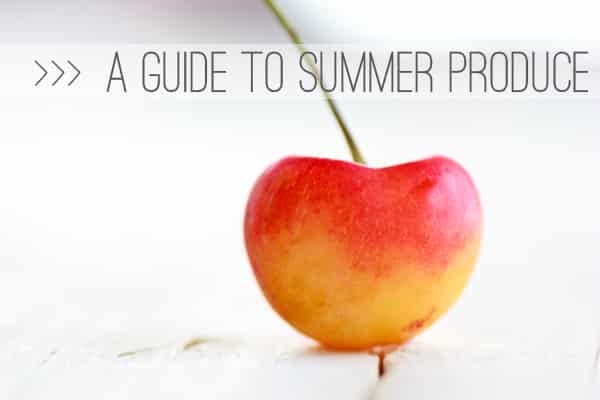 Even before I really knew what eating in season was all about, I knew that summer was when you bought fresh corn. And if you tried to buy fresh corn at any other time of the year, you'd be sorely disappointed. It wasn't until I reached adulthood that I realized that other vegetables have seasons too--who knew, right?! When you eat in season, you'll have an easier time eating local and you'll save on your groceries in the process. As cheesy as it sounds, eating in season helps me feel more in touch with nature too. That's not to say I never buy a zucchini or cucumber in the winter, because I do, but I try to adhere to seasonal eating as much as I can.
Here are some of my favorite fruits and vegetables that are in season during the summer, plus info about how to store them, prepare them, and recipe ideas too.
Bell Peppers
Peak Season: July-Autumn
Buying Tips: Bell peppers can be found in a range of colors, including green, red, yellow, orange, purple, brown, white, and more! Regardless of their color, bell peppers should be shiny, smooth, firm, and feel heavy for their size.
Storage: Refrigerate bell peppers for up to 4 days.
Preparation & Cooking: Remove the stem, seeds, and white part of the membrane before using. Bell peppers can be grilled, stuffed, or added to stir-fries. They're also excellent roasted!
Recipe Ideas: Sriracha Snap Peas with Red Pepper, Red Peppers Stuffed with Ricotta, Caramelized Broccolini and Toasted Walnuts from Greek Vegetarian, Roasted Red Pepper Hummus Sandwich with Caramelized Onions from Life Currents
Berries
Peak Season: June-July (raspberries), late July (blueberries), late summer (blackberries)
Buying Tips: Berries should generally be shiny and plump (except for blueberries, which actually look duller when they're ripe). Make sure to avoid containers with any moldy/mushy berries - the mold can spread to the rest of the berries in no time!
Storage: Berries should last 2-3 days in the fridge. They can also be frozen. Do NOT rinse your berries until you're ready to eat or use them! Rinsing them in advance will cause them to get mushy and rot more quickly.
Preparation & Cooking: Berries are quite versatile - throw some in your yogurt or oatmeal, bake them in a pie, add them to salad, make some jam, or even experiment using them in savory dishes.
Recipe Ideas: Raspberry Banana Chia Smoothie, Vanilla Blackberry Overnight Oatmeal, Chewy Blueberry Sunflower Seed Granola Bars from Kitchen Treaty
Cantaloupe & Honeydew
Peak Season: June-August (cantaloupe), late summer-early fall (honeydew)
Buying Tips: Cantaloupes and honeydews should feel heavy for their size and smell sweet.
Storage: Keep cantaloupes and honeydews on the counter for about 2-4 days, or until ripe. Don't refrigerate them unless they're ripe or cut. Wrap sliced melon tightly in plastic wrap and refrigerate for up to about 3-4 days. Melon cubes should be kept in an airtight container in the fridge and eaten soon.
Preparation & Cooking: Melon rind can harbor bacteria, so always wash cantaloupes and honeydews before you cut into them. Cantaloupes and honeydews go great in smoothies and salads, or get creative and make a melon soup!
Recipe Ideas: Spicy Cantaloupe Cucumber Salad, Cantaloupe Mojito & Cantaloupe Mint Sparkler from The Spicy RD, Mix and Match Melon Soup from Martha Stewart
Cherries
Peak Season: May-August
Buying Tips: Make sure to buy cherries when they're ripe - they won't ripen after you bring them home. Cherries should be smooth and shiny
Storage: Cherries don't last very long - usually no more than 3-4 days in the fridge.
Preparation & Cooking: Cherries can be made into jams, sauces, desserts, and more. You can also freeze cherries to use later in cooking or baking, but don't take them out until you're ready to use them.
Recipe Ideas: Cherry Lambic Brownies, Cherry Breakfast Shake, Whole Wheat Chocolate Cherry Muffins
Corn
Peak Season: May-September
Buying Tips: Look for a tightly closed, fresh-looking husk with brown (but not dried up) silk tassels. Open the husk a bit to make sure the kernels look plump and cover the whole ear, and to check for obvious damage.
Storage: Corn on the cob should be kept in the husk and prepared the same day if possible. Refrigerate your corn in a plastic bag to slow decomposition and keep the sugars from turning into starch. Corn can also be blanched and then frozen.
Preparation & Cooking: Nothing screams summer like grilled corn on the cob! Or slice off the kernels, and use them in a wide variety of recipes - even ice cream! Seriously!
Recipe Ideas: Fresh Corn, Poblano, and Cheddar Pizza, Thai-Style Grilled Corn with Roasted Peanuts, Fresh Corn Soup with Herbed Croutons
Eggplants
Peak Season: July-October
Buying Tips: Eggplants come in a wide variety of shapes and sizes. Farmers markets are a great place to find crazy (and delicious!) kinds of eggplant that you won't find at the supermarket. Look for smooth, shiny skin and eggplants that feel heavy for their size.
Storage: Use eggplants right away if possible for the best taste. Refrigeration can damage their flavor and texture, so keep them on the counter in a cool spot. If you keep eggplant in a bag, make sure it's not completely sealed.
Preparation & Cooking: Always cook eggplants before eating. Eggplants make a great substitute for meat - you can slice large eggplants into rounds and grill or roast them for sandwiches or eggplant parmesan. Eggplant is also perfect for stuffing.
Recipe Ideas: Caramelized Onion & Eggplant Puff Pastry Tart, Lightened-Up Eggplant Parmesan Stacks, Stuffed Baby Eggplant in Peanut Sesame Sauce from The Steaming Pot
Green Beans
Peak Season: May-October
Buying Tips: Look for firm beans that can snap easily.
Storage: Green beans can last in the fridge between 4-7 days. Put them in a paper bag, or wrap them in a paper towel and put them in a plastic bag.
Preparation & Cooking: Cut the tips off your green beans before preparing them. Some beans also have strings that you may need to remove. Green beans are a great side dish, and you can add them to stir fries.
Recipe Ideas: Garlic Soy Green Beans, Green Beans with Lemon Almond Pesto, Green Bean and Potato Curry from Curry and Comfort
Peaches
Peak Season: May-September
Buying Tips: Look for peaches that feel heavy for their size and are slightly firm, but not rock solid.
Storage: Store peaches on the counter, not in the fridge! They may last longer refrigerated, but it makes them mealy and flavorless. Keep peaches in a brown paper bag, but don't close it all the way.
Preparation & Cooking: Peaches are perfect for desserts, jams, and baking, and they also taste great grilled!
Recipe Ideas: Brown Sugar Peach French Toast Cups, Grilled Peaches, Peach Melba Shake
Summer Squashes
Peak Season: April-July
Buying Tips: Zucchini and yellow squash are most common, but there are many other types, including pattypans, eight-balls, and more - you may need to hit up a farmers market to find some of the more unusual varieties. With summer squashes, bigger is not better. Smaller squashes have fewer seeds and better flavor than larger ones.
Storage: Baby squashes should be used promptly, and they typically last 2 days in the fridge. Larger, more mature squashes can last around 4 days in the fridge.
Preparation & Cooking: Unlike winter squashes, the rinds of summer squashes are edible, so no need to peel them! Summer squashes are great on the grill, sauteed, baked, or stuffed.
Recipe Ideas: Mushroom Zucchini Quesadillas with Cilantro Pesto, Stuffed Pattypan Squash with Quinoa and Fresh Corn, Bourbon Mango Pulled Summer Squash Sandwiches
Tomatoes
Peak Season: July-August
Buying Tips: Tomatoes should feel firm and heavy for their size.
Storage: Tomatoes should be kept on the counter. Refrigerating them will destroy their flavor. Tomatoes will continue to ripen after being picked, so if you have unripe ones, leave them in a brown paper bag until they're ready.
Preparation & Cooking: Plum tomatoes (such as Roma) are ideal for sauces. Beefsteak tomatoes are perfect for slicing and putting on sandwiches. Cherry and grape tomatoes can be thrown into salads. Summer is also heirloom tomato time, so be on the lookout for tomatoes in all sorts of exciting shapes and sizes!
Recipe Ideas: Roasted Vegetarian Puttanesca Sauce, Tomato & Mozzarella Panini, Roasted Eggplant Tomato Tart from The Bojon Gourmet
Watermelons
Peak Season: May-July
Buying Tips: The "thump" test is the most popular way to pick a watermelon (and yes, there's an app for that). Whether thumping actually works is up for debate. Watermelons differ from other melons in that they don't give off a smell when they're ready to eat, so it may be tougher to pick a good one. Look for melons that are firm and don't give in much to pressure, and that have a yellow spot from where they sat on the ground ripening.
Storage: Whole watermelon can be kept on the counter for about a week. Don't refrigerate watermelon unless it's been cut or is ripe. Cut watermelon can last about 2 days in the fridge, or you can freeze it for up to 3 months.
Preparation & Cooking: Watermelon is the perfect summer food as-is, but you can also add it to salads or blend it and make drinks, cold soups, Italian ices, smoothies, or sorbets.
Recipe Ideas: Ginger Watermelon Italian Ice, 4 Simple Watermelon Side Dishes, Watermelon Cucumber Slush from Henry Happened
For more ideas on what to do with your summer produce, check out my Semi-Comprehensive Guide to Roasting Summer Vegetables. Oh, and I have a Guide to Spring Produce too!