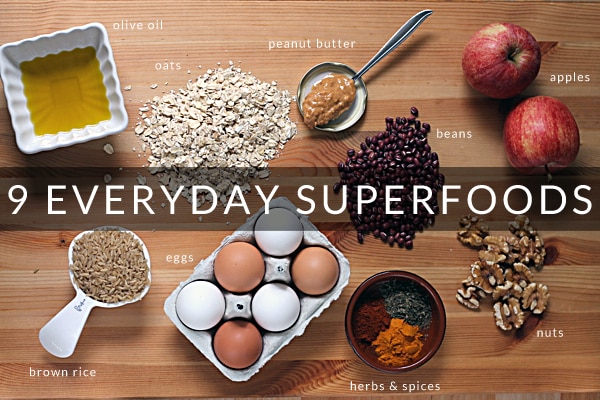 Looking to add a few superfoods to your diet? No need to take a trip to the health food store or spend a small fortune on mysterious roots and berries from faraway lands. Just rifle through your cupboards -- you may already have them on hand!
Here are some of our favorite pantry super foods:

There's so much to love about nuts. Rich in healthy fats, Omega-3's, fiber, plant phenols, and many other health-promoting compounds, nuts and seeds are most definitely superfoods.
Almonds and walnuts are two popular favorites. Both are high in monounsaturated fats, which are heart-healthy when consumed in moderation. Almonds are also a good source of manganese, vitamin E, and magnesium. Walnuts provide Omega-3 fatty acids and have antioxidant and anti-inflammatory properties, which protect against cardiovascular problems and type 2 diabetes.
Tip: Store nuts in the freezer to extend their storage life.

An apple a day really may keep the doctor away! Rich in antioxidant polyphenols, apples are associated with cardiovascular benefits, asthma reduction, and a lower risk of some cancers. Apples are also a great source of vitamin C.
The soluble fiber pectin, together with the unique complement of polyphenols found in apples, work to regulate glucose absorption in our gut and stimulates insulin production -- both of which are helpful when it comes to blood sugar regulation.
The health benefits of apples are most optimal when consumed in whole-food form, so skip the apple juice and snack on a crisp apple instead.
Tip: The nutrients in apples are concentrated in the skin, so keep the skin on whenever possible.

The protein-fiber combination found in beans and legumes secures their place in the superfood spotlight. A one-cup serving of black beans contains 15 grams of fiber and 15 grams of protein! Because protein and fiber move through our digestive system at a moderate pace, they help to stabilize blood sugar.
Much of the fiber in beans and legumes is insoluble, which supports digestive health --particularly in the lower part of our digestive tract. Beans and legumes are also rich in soluble fiber, which is helpful for lowering blood cholesterol levels and supporting cardiovascular health. They're also a good source of folate, fiber, protein, phosphorus, iron, copper, magnesium, manganese, potassium and vitamin K.
Tip: Discard the soaking water when cooking dried beans. You'll be tossing out a good amount of flatulence-causing compounds, as well as some of the phytates and tannins that lower nutrient availability.

Eggs have traditionally been referred to as a gold standard in protein quality, and in fact are often used as the benchmark against which other proteins are scored. It's no wonder, with 6-7 grams of protein in a single egg. Rich in vitamin B12, choline (important for your brain), and healthy fats, eggs are most definitely a superfood.
It was previously believed that the cholesterol contained in egg yolks was problematic, but this has since been disproven. In a recent study, participants ate two eggs for breakfast daily, and there was no notable increase in blood cholesterol levels.
Eggs are satiating, and a great choice for quick and easy meals at any time of day.
Tip: Hard-boil a bunch of eggs on the weekend for grab and go snacks or meals during the week.

Oats are awesome! Rich in indigestible carbohydrates called beta-glucans, oats have long been praised for lowering blood cholesterol levels. They are also host to a number of phenolic compounds, which have antioxidant properties.
Due to the high levels of those beta-glucans, oats are also helpful in stabilizing blood sugar. In fact, eating oats in the morning may help keep your blood sugar stable throughout the entire day.
Oats and other whole grains have been shown to be helpful for diabetics -- and potentially protective against breast cancer, too. Also a good source of dietary fiber and protein, oats are super for sure!
Tip: Look for gluten-free oats if you've been diagnosed with celiac disease or gluten intolerance.

Did you know that peanuts aren't really nuts? They're a member of the legume family, and have one of the highest protein contents of any legume. Consumed in moderation, peanut butter is a good source of energy and protein - and it's rich in vitamin E and several B vitamin complexes, too.
Be sure to read your labels! Some brands remove the peanut oil and replace it with cheaper, lower-quality oils. Also watch out for added sugars. Seek out a brand of peanut butter that contains nothing but peanuts and maybe a bit of salt, or try making your own at home.
Tip: From time to time, enjoy a serving of peanut butter -- one serving is about 2 tablespoons -- instead of a handful of nuts.

An amazing healthy oil! Rich in antioxidants (particularly beta-carotene and vitamin E) and anti-inflammatory phytonutrients, extra-virgin olive oil is a unique plant oil in terms of its fat composition. About 75% of the fat is found in the form of oleic acid (a monounsaturated, omega-9 fat).
There have been countless studies pointing to the benefits of olive oil consumption related to fighting and preventing certain cancers, cardiovascular health, digestive health, and more.
Interestingly, the benefits of olive oil are not seen when diets involve too many calories and too much total food; in order to benefit from its healthy properties, olive oil must be consumed as a part of a balanced and healthy diet.
Tip: Store your olive oil in the cupboard to avoid accidentally degrading the oil with light or heat.

Check your spice cupboard for a great way to add flavor to any dish without adding fat, salt or sugar. Dried herbs and spices are also a fantastic way to add more overall health to your meals. Because they no longer contain the water that makes up a significant part of their fresh cousins, dried herbs and spices boast a much higher level of antioxidants.
They're also rich in health-promoting phytonutrients, such as carotenoids, flavonoids and other phenolics.
Tip: Buy your dried herbs and spices at a bulk food store with high turnover to ensure freshness.

Another healthy whole grain to keep in your pantry: brown rice. Did you know that the process of converting brown rice to white rice destroys 60-80% of the vitamins and minerals, and all of the dietary fiber and essential fatty acids? Brown rice, on the other hand, is a whole food with a myriad of benefits from colon health to cholesterol reduction.
It's also an amazing source of dietary fiber, manganese, selenium, magnesium, and tryptophan – the same sleepy-making essential amino acid found in turkey.
Tip: To have brown rice on the ready, cook more than you need and freeze the leftovers in one-cup portions.