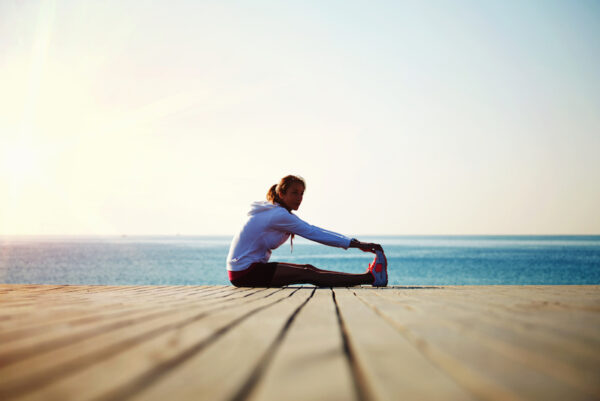 In this modern world we live in that includes so much sitting, screen time, and sedentary behavior, most of us could benefit from moving our bodies a lot more. But that can be easier said than done, especially since many of us juggle such fully-loaded lives. It's totally possible, though, to fit exercise into your busy life in a way that works for you.
Become a physically active commuter
This is my number one favourite way to fit exercise in: a physically active commute. Whether this means walking or biking to work or school, I know that if I leave the car at home or skip the subway, even if my day goes to hell I'll at least have had that active commute on either end of my day. Plus, if like me you've got a job that involves a lot of sitting in front of a computer, it feels so great to stretch your legs and get your body moving at the end of a long day.
There is a Swedish proverb that translates roughly to, "there is no bad weather, only bad clothes," and it's true! If you invest in good rain/all weather gear, your commute will be much more comfortable. I can't tell you how many times I've been on my bike in the pouring rain and looked at people packed into a damp bus and been so glad I wasn't one of them.
I realize that physically active commuting won't work for everyone, but if it might work for you, give it a try. Even part way to work, if you can park a little further away from the office or get off the bus a few stops early and walk the rest of the way. It's a great way to set yourself up for success.
Exercise on your lunch hour
I love to exercise on my lunch hour. If I go into the lunchroom, or go out for lunch with colleagues, or worst of all, eat lunch at my desk, it just means more sitting. I'm also terrible at getting up early and hate getting home late, so my lunch hour is the best time for me to get in a proper workout.
Many gyms offer lunch hour classes for exactly this reason; it's a great time to fit exercise into your busy day. My favourite thing to do is go for a swim or a run over my lunch hour (depending on how much time I have that day), and then I'll eat a late lunch at my desk afterwards (ß and yes I just said that eating at your desk was a terrible habit, but we make an exception if it's in order to fit a workout in).
Of course your employer will need to be on board for this to work, but many workplaces have exercise facilities or agreements with gyms, so look into what your options are. And remind your boss that stepping away from your computer and getting the blood flowing will only make you work more efficiently in the afternoon.
Make an exercise date
If you have time to meet a friend for drinks or go out for dinner with your main squeeze, you've got time for an exercise date. Whether it's a walk in the park or a hot and sweaty spin class, making an exercise date is not only a great way to catch up and spend time with your loved ones, but also a good way to stay accountable for actually doing the exercise in question.
There is strong evidence to suggest that having fit friends and family is a positive influence to be fit and active ourselves. A lot of physical activity allows for us to have a conversation at the same time – walking, running, even a heads-up kick set or deep-water running in the pool. Or, pick a fun workout like zumba or water aerobics that's only going to be more hilarious and full of laughs if you go with a friend. Kill two birds with one stone and do something that's good for your heart, both physically and emotionally.
Pick a workout you can do from anywhere
Several of my clients travel a lot for work and tell me they find it really tough to keep up an exercise routine. And fair enough if you're dependent on certain equipment or locations to get your workout done. But there are so many workouts that can be done from practically anywhere.
Walking and running are two easy ones. I've spent hours walking around busy airport terminals just to keep my body moving. And my husband will run basically anywhere – I watched him do loops around the Bangkok airport parking lot to squeeze a run in on a long day of travel. Even if you're in a hotel room or the back of an airplane, it only takes a small patch of carpet to do a bunch of squats and lunges.
There are also great ways to take a workout with you. These days you can stream many fitness classes (I love to stream yoga) and filter classes that don't require any special equipment. I've also got a skipping rope that I'll pull out from time to time for a cardio workout without having to leave my living room.
Choose a workout you love to do
Lastly, but most importantly, you've got to want to do it. If you've chosen a workout that you're dreading, chances are you'll find a way to get out of doing it. Personally, I hate the gym. Something about being in a stuffy room with other people and using machines / weights that keep me in one place. No thanks. But get me outside even on the most miserable day and I'm happy to go for a walk or a run. I love to swim, but hate going at a time that the pool is crowded so I need to account for that when I plan my workout times. And I dislike cardio classes, but love hitting the yoga studio. So figure out what works for you, what you love to do, and do that. Because chances are you'll keep going back to it.