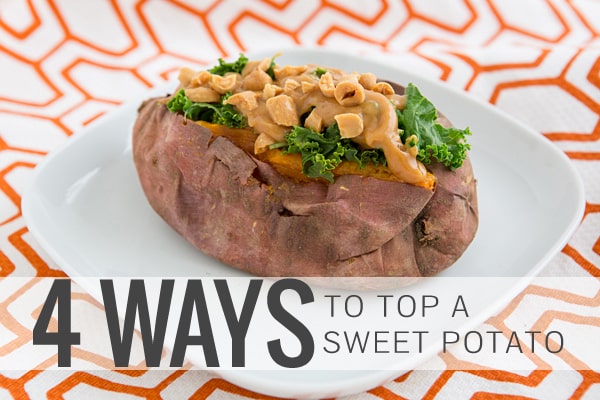 With a little creativity, you can take a baked sweet potato from uninspired side dish to a filling meatless meal. Yes, a potato as a meal! Not a big, oh-I'm-so-stuffed-I-can't-eat-another-bite type of meal, but a light, healthy meal. The kind of meal that comes in handy when someone brings cupcakes to work and you make yourself sick on frosting or when it rains on Halloween and it would be a shame to let all those Twix bars you bought go to waste, so you have no choice but to eat them yourself. It's all about balance, right?
You'll want to start with a big sweet potato--not super big, but big enough to make a satisfying dinner (or lunch). Pierce it with a fork, bake it at 400º until it's tender (this usually takes about an hour, although it depends on the size and shape of your potato), and then add a topping or two.
Need some ideas? Here are 4 ways to top a sweet potato: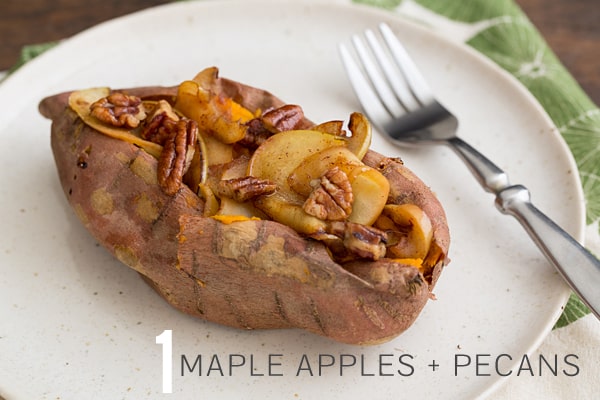 While your sweet potato is baking in the oven, whip up a batch of sautéed maple apples and toast some pecan pieces. Stuff your potato full of that nutty apple deliciousness! These potatoes would make a great fall breakfast too.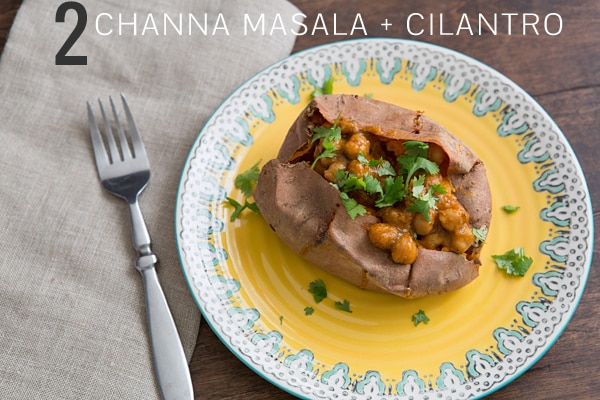 You know those packets of Indian entrees that you can microwave or boil in water? I love those on a sweet potato. I used Tasty Bite channa masala on this one and sprinkled a little cilantro on top. If you have leftover chili or even Thai curries, those also work well as a sweet potato topping.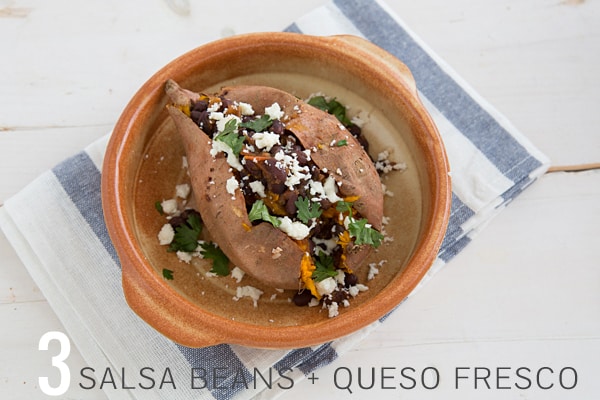 Salsa beans! Take some cooked (or canned) black beans, simmer them in a little bit of salsa until they're warmed through, then spoon them onto your baked sweet potato. Top with queso fresco or shredded jack cheese and cilantro leaves.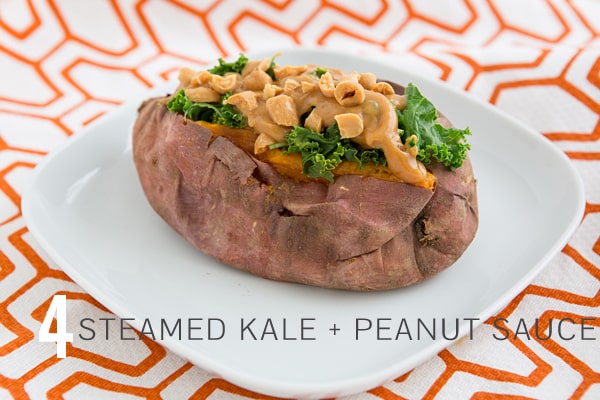 This is probably my favorite way to top a sweet potato. And I know it sounds a little crazy, but you're just going to have to trust me! Steam some kale until it's wilted, then stuff it into your sweet potato. Top it with peanut sauce (homemade or store-bought) and chopped roasted peanuts.
What's your favorite way to top a sweet potato?