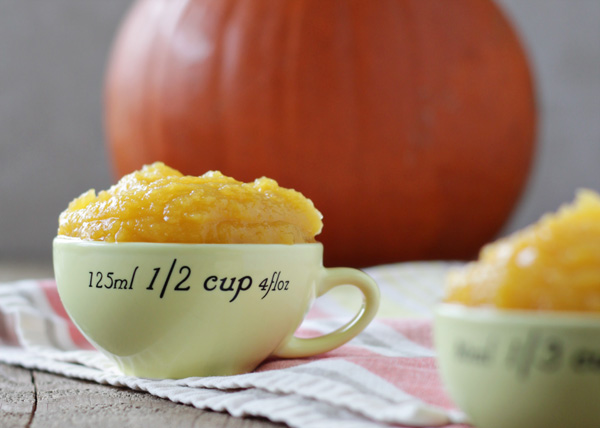 If you were to rifle through my fridge at any point during the fall, there is a very high likelihood that you would find a partially used can of pumpkin puree. I am a complete sucker for pumpkin baked goods this time of the year, but it seems like most recipes only require one cup or less. Which leaves me with the same old dilemma--how do I want to put that leftover puree to good use?
While I sometimes end up freezing the leftovers (I like to do this in ice cube trays), there are other fun ways for using it up right away. Here are a few of my favorites:
Breakfast Time
As you really can't go wrong pairing pumpkin with sweet recipes, there are so many possibilities when it comes to breakfast. Swirl some puree into your oatmeal, along with warm spices and chopped pecans, for a fall spin.
Or, add some to a smoothie--I find pumpkin pairs quite well with banana and yogurt. Along those lines, add a dollop of puree to plain greek yogurt and drizzle with a touch of maple syrup. Great for breakfast or even just snacking!
As A Pizza Topping
If you only have a small amount of puree leftover, one of my favorite things to do is mix it up with ricotta cheese, along with a bit of salt and pepper. Use this in place of regular ricotta on a pizza.
Alternately, if you have a good amount leftover, season the pumpkin with salt and pepper to taste, and then use in place of regular sauce. Top with cheese and whatever other toppings you like. I personally think sliced red onion, sliced apple and fresh sage make for a killer combo.
Homemade Hummus
Hummus is one of my absolute favorite snacks, and the flavors in hummus pair exceptionally well with pumpkin. Whenever I make a batch during the fall, I pretty much always add in some pumpkin puree. Gives it a touch of something special.
You can also use leftover pumpkin in other savory fall dips--it's a fun way to shake things up!
In Chili Or Sauces
Have you tried adding pumpkin puree to chili? I love that it adds an extra boost of nutrition, and at the same time you can barely tell it's there. It really takes on the other flavors in the dish and can even add a bit of creaminess (depending on the amount you throw in). Start with a few tablespoons and increase as desired.
Same goes with chunky red sauces--it's a fantastic way to use up those extra few tablespoons in the bottom of a can.