I spent most of my formative years drinking soda (or, as we Midwesterns like to call it, pop). In fact, I doubt I ever drank a full glass of water until I reached adulthood. As I got older and became more health conscious, I cut back on my soft drink habit and switched to drinking water instead. Still, every once in a while I have a craving for sugary pop–I mean, really, can you eat pizza or a burger with water instead of something sweet and fizzy? It's sacrilege!
Enter the SodaStream home soda maker. The SodaStream is perfect for my husband and me because on those rare occasions when we want to have soda, we can. And the rest of the time, I can use it to make sparkling water with lemon or lime juice (a staple in our household) for much less money than it would cost to buy it at the store. No need to throw away several empty bottles a week, and no worries about running out–when we're finished with a bottle, we can simply refill it and have a new one in a minute or two.

Before I received my SodaStream Fountain Jet, I was under the impression that it was some kind of high-tech electronic gadget–the type of gadget that would certainly take an hour or so to set up. To my surprise, there's nothing to plug in or program. All you need to do is hook up the CO2 tank, fill the reusable SodaStream bottle with water, press the carbonation button until it buzzes a few times, and add syrup or flavoring if desired. Not only is it super easy, it's pretty fun too.
Hello, fizziness!
My husband moonlights as a hand model.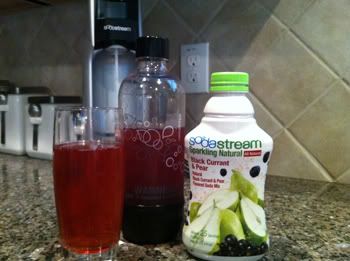 We made this! In our own home!
Although I really love my SodaStream for sparkling water, most users will be using the SodaStream for soda– I mean, that
is
the name of it, after all! SodaStream sells syrups in a variety of flavors and I was happy to sample many of them for the purpose of this review. I particularly loved the
Black Currant & Pear Sparkling Naturals
flavor–it was crisp, clean, and slightly tart, making it a nice grown-up soda. The
Sparkling Naturals Cola
was quite tasty too. The
MyWater Flavor Essences
were a great addition to the sparkling water I made and a nice change of pace from my typical sparkling water + lemon. My big complaint about the SodaStream sodamix flavors is that, with the exception of the Sparkling Naturals line, they're all made with artificial sweeteners–even the non-diet flavors. While I'm glad to see that they don't contain high fructose corn syrup, it was disappointing to see that they contain sucralose instead.
Overall, I'm really happy with the SodaStream. When it comes to gadgets like this, they usually end up falling into one of two categories: the things you never use and end up regretting buying and the things you end up using even more than you had anticipated. The SodaStream falls into the latter category–while I thought we would be using it once a week or so, we're now using it once or twice a day.
Where can you buy it?
You can find SodaStream products at a retailer near you by using the
store locator
on sodastreamusa.com. You can also buy online from the SodaStream website or
amazon.com
.
…but you can win it here too!
SodaStream has generously offered to give one Type A Housewife reader a Soda Lover's Start-up Kit, which includes a SodaStream fountain jet in your choice of color, enough CO2 to make over 100 liters of soda, 1 reusable carbonating bottle, a sample pack of SodaStream flavors and your choice of 3 full-sized flavors (ARV $100)! Awesome, right? Follow the instructions below for your chance to win.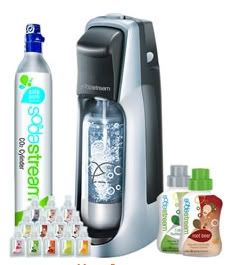 How To Enter
Enter a separate comment for each method of entry. Do the mandatory entry first–if your email address isn't in your Blogger profile, include it in this comment.
Please know that I will delete comments that don't answer the mandatory entry question. Comments like "this is great," "enter me," etc. will be deleted, as will daily and hourly tweets.
Mandatory Entry: Go to the SodaStream online store and tell me the three flavors you'd choose to receive if you win.
Bonus Entries:
"Like" SodaStream on Facebook. +1
Follow SodaStream on Twitter. +1
Follow me on Google Friend Connect (see sidebar). +1
Follow me on Twitter (@ohkeeka). +1
"Like" The Type A Housewife on Facebook. +1
Subscribe to my blog via reader or email (see sidebar). You can do both of these, but you only get one entry. +1
Tweet about this giveaway ONCE (not daily, not hourly) +1:

RT @ohkeeka #Win a SodaStream Fountain Jet & starter kit on The Type A Housewife http://bit.ly/mOCVgQ #giveaway
Things You Should Know:
One winner will receive a Soda Lover's Start-up Kit, ARV $100.

Entry open to anyone 18 years of age and over.

Open to those in the US only.

Giveaway ends on Sunday, July 3 at 9pm EST.

Winner will be chosen via random.org

Because I know emails can get lost in the ether, I will email the winner twice. If I don't hear from you within 24 hours of the first email, I'll try again. If, after 48 hours, I still haven't heard from you, another winner will be chosen.

Winner will be announced in a separate post on my blog.

I will check to make sure the winner did not cheat by entering under multiple accounts/email addresses. So really, don't even try it. Cheating is not a good look.

Disclosure: I received a SodaStream Fountain Jet and SodaStream syrup to facilitate this review, but all opinions are my own–I only review products on my blog that I truly love and recommend to my readers. No monetary compensation has been received.
Thank you to SodaStream for sponsoring this giveaway!