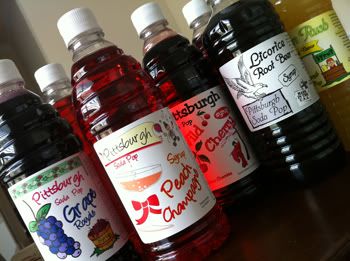 A few weeks ago, I did a brief post about
Pittsburgh Soda Pop
because I was so pleased with the order I had placed with them. So naturally, when Damon, the owner of Pittsburgh Soda Pop, asked me if I was interested in doing a review and giveaway, I couldn't say no!
Because I try to stay away from artificial sweeteners and high fructose corn syrup, I decided to seek out soda syrups that are made with sugar once I started using the SodaStream to make carbonated drinks. I expected that this would be something I could find just about anywhere, but to my surprise, it wasn't. When I saw someone mention Pittsburgh Soda Pop on another website, I thought I'd give them a try. Pittsburgh Soda Pop only uses granulated sugar in their syrups–no HFCS or Splenda. And with 30 different flavors, there's something to please everyone!

I ordered several bottles myself and I received eight additional bottles for the purpose of this review, so between the two, I've sampled most Pittsburgh Soda Pop flavors. What kinds of flavors do they have, you ask? Well, here are just a few:
Lemon Rush
– The only way to improve upon lemonade is to add fizz to it. So refreshing on a hot summer day!
Virgin Island Ginger Beer – A favorite of mine. If you like authentic, spicy ginger beer, this is for you.
Root Beer – Pittsburgh Soda Pop makes American Classic, Vanilla, Spiced, and Licorice Root Beer. My favorite root beers all have strong notes of licorice, so I absolutely loved the Licorice Root Beer.
Wild Cherry – Kind of like a kiddie cocktail (I can't be the only 30 year old that loves kiddie cocktails, right?!), but better.
Grape Royale – I'm picky about my grape soda–sometimes it's just too sweet and tastes almost like cough syrup to me. This syrup uses concord grape juice, so the flavor was less cloying than other grape sodas.
Sparkling Pomegranate – Another of my favorites! A perfect combination of tart and sweet.
Peach Champagne – I didn't know what to expect with this one, but the flavor was quite pleasant and peach-y.
Strawberry Cheesecake – I thought this tasted like a combination of cream soda and strawberry soda. I loved this and plan on making popsicles with it.
Chocolate Peanut Butter Cup – My husband loves chocolate sodas, but usually we only find them in specialty stores. He was thrilled to get this syrup–I prefer to use it for ice cream floats, but he likes it by itself.
Salty Dog Lime – This tastes (and looks) just like the lemon-lime soda I used to love as a child. And really, that's what's so fun about Pittsburgh Soda Pop–with all the fun, unique flavors, it makes you feel like a kid again.
These syrups are fantastic when used in conjunction with the
SodaStream
(or any other home carbonation system), but if you don't have one, you can simply use sparkling water from the grocery store. Each 20 oz. bottle of syrup makes 4 liters of soda, while the 5 oz. sample sizes make 1 liter each. Just add the syrup to the carbonated water and you're done! Pittsburgh Soda Pop syrups also make great popsicles (check out my Root Beer Float Ice Pops, pictured above) and sno-cones.
Where can you buy it?
You can buy Pittsburgh Soda Pop syrups on
pittsburghsodapop.com
.
…but you can win it here too!
Pittsburgh Soda Pop has generously offered to give one Type A Housewife reader a 5 oz. bottle of every flavor of syrup they sell–that's 30 bottles of syrup! Awesome, right? Follow the instructions below for your chance to win.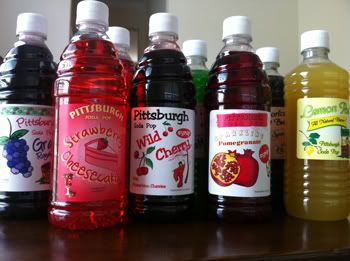 How To Enter
I am now using Rafflecopter for my giveaways! Leave the mandatory entry as a comment on this post;
all other entries should be done through the Rafflecopter form.
If you don't do the mandatory entry, all of your subsequent entries will be disqualified. Commenting that you want to win, that you like this product, or saying you'd like to try every variety DOES NOT fulfill the mandatory entry.
Mandatory Entry: Go to the Pittsburgh Soda Pop website and tell me the flavor you're most excited about trying.
Things You Should Know:
One winner will receive a 30 bottle sampler pack of Pittsburgh Soda Pop syrup.

Entry open to anyone 18 years of age and over, one entry per household.

Open to those in the US only.

Giveaway ends on Wednesday, August 17 at 12:01am EST.

Winner will be chosen via random.org

Because I know emails can get lost in the ether, I will email the winner twice. If I don't hear from you within 24 hours of the first email, I'll try again. If, after 48 hours, I still haven't heard from you, another winner will be chosen.

Winner will be announced in a separate post on my blog.

I will check to make sure the winner did not cheat by entering under multiple accounts/email addresses. So really, don't even try it. Cheating is not a good look.

Disclosure: I received samples from Pittsburgh Soda Pop to facilitate this review, but all opinions are my own–I only review products on my blog that I truly love and recommend to my readers. No monetary compensation has been received.
Thank you to Pittsburgh Soda Pop for sponsoring this giveaway!