I am no stranger to Newman's Own Organics. Many years ago, I discovered their Milk Chocolate Peanut Butter Cups at our local Whole Foods and there was no going back. Not only were they much tastier than the peanut butter cups made by that other brand, but they were the perfect size (and calorie count) for an afternoon pick-me-up. Since then, I've tried a few of their cookies, but I never realized the extent of the product line until recently. Newman's Own Organics is way more than cookies and peanut butter cups. When you think about it, this makes sense–after all, Newman's Own Organics is a pioneer in the field of organic foods.

Back in 1993, Nell Newman and her business partner Peter Meehan weren't sure there'd be a market for organic snacks. With seed money from her father Paul Newman, Nell started the organic division of Newman's Own and the rest is history, as they say. With new products on store shelves every year (did you know Newman's Own Organics makes tea!?), what was once a division of Newman's Own is now a growing and successful company in its own right. Newman's Own Organics proves that organic food doesn't have to be boring and bland–it can be tasty and fun too.
For this review, the wonderful people at Newman's Own Organics sent me a large assortment of their products. Products that I didn't even know existed! But now that I do know they exist, I also know that they're going to end up in my shopping cart quite often (I'm looking at you, Pomegranate Licorice!). Now, there's a common misconception that organic foods are also lower in calories than their conventional counterparts. While this is usually not the case, the big reason to buy organic foods is to support sustainable, organic growing practices and to buy products made with real ingredients, not chemicals and preservatives and food coloring. Newman's Own Organics products simply taste better than similar products from other brands because they use quality ingredients. Let's do a quick run-down of some Newman's Own Organics items, shall we?
Soy Crisps
White Cheddar Soy Crisps have replaced potato chips as my favorite sandwich accompaniment. Why? They have protein! They're not greasy! And they're so light and flavorful.
Breath Mints
Peppermint, Cinnamon, and Wintergreen–these are all standard breath mint flavors. And don't get me wrong, they're really good! But Newman's Own Organics also makes
ginger
mints. I am a big fan of ginger, so these were a favorite of mine.
Chocolate Bars
I am picky when it comes to chocolate. Milk chocolate is often too cloying, while dark chocolate is sometimes too bitter. Newman's Own Organics chocolate is just right–especially the Orange Dark Chocolate Bar. I think I'm in loooove.
Fig Newmans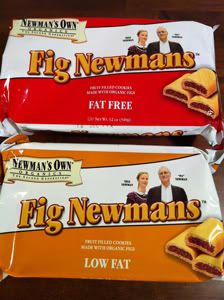 Here's a fun fact: Fig Newmans came into existence after Paul ("Pa") Newman went to Nabisco and asked for permission to license Fig Newtons from them. If you love the tender, figgy (it's a word!) flavor of Newtons, you will be an instant fan of Fig Newmans.
Pretzels
I'm not a big pretzel eater. I love soft pretzels, but the hard variety? Just not my bag. I had planned on ceding these to my husband, but nope, sorry, they're mine. These pretzels are
good
.
Chocolate Cups
You already know about my love for Newman's Own Organics Milk Chocolate Peanut Butter Cups. The peanut butter in these is so creamy and smooth–not gritty at all. But my beloved PB cups now have competition from the Dark Chocolate Peppermint Cups. They are just perfect–not too minty, not too chocolatey, and just the right amount of filling.
Champion Chip Cookies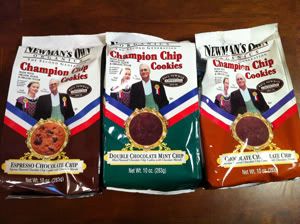 The small size of these cookies makes them perfect for snacking–as long as you can resist more than a handful! Made with organic palm fruit oil, these cookies are free of trans fat and lower in saturated fat than those made with butter. The Double Chocolate Mint Chip were my favorite.
Hermits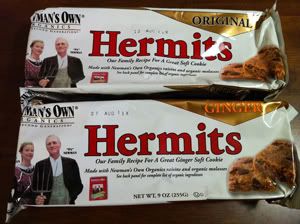 I've never heard of these before so I had no idea what to expect–they looked a little fruitcake-y to me, so I was a wee bit skeptical.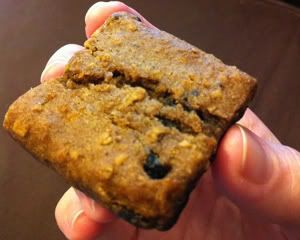 Oh, how I love to be proven wrong–these cookies are so yummy. The ginger variety reminds me of a cross between gingerbread and an oatmeal raisin cookie.
Newman-O's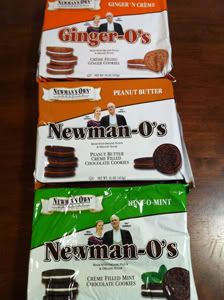 I've already bought many packages of Ginger-O's, so trying the Hint O' Mint and Peanut Butter varieties sounded like a good idea to me. They are all so good, but the winner in my book is the Peanut Butter variety. It's like eating a peanut butter cup, but in cookie form.
Alphabet Cookies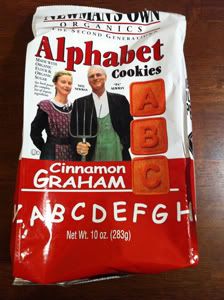 These are fantastic for children–each cookie has a letter on it and, like other Newman's Own Organics cookies, they're made with organic palm fruit oil, which contains no trans fat or cholesterol. The Cinnamon Graham cookies are wonderful paired with a glass of (soy)milk!
Dried Fruit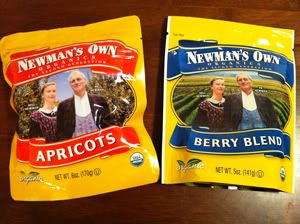 Dried fruit is good for snacking, but I like doing things with it–throwing it in cereal or oatmeal or maybe in some impromptu muffins. I made dark chocolate covered fruit clusters with Newman's Own Organics Berry Blend.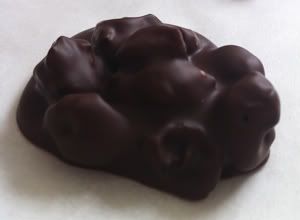 Needless to say, they were super tasty.
Licorice
I love licorice! But it has to be good licorice. Luckily, Newman's Own Organics licorice is the good stuff. I was particularly intrigued by the pomegranate and tangerine flavors. The tangerine really did taste and smell like the fruit. And then there's the pomegranate. Pomegranate! Licorice! It really might just be the best thing ever.
And this extensive list? It's only the tip of the iceberg! Newman's Own Organics also has coffee, pet food, olive oil, and more.
Where can you buy it?
You can find Newman's Own Organics products at a retailer near you by using the
store locator
on newmansownorganics.com.
…but you can win it here too!
Newman's Own Organics has generously offered to give one Type A Housewife reader four of my favorite products: Ginger Hermits, Pomegranate Licorice, Peanut Butter Newman-O's, and Pretzel Rods! Awesome, right? Follow the instructions below for your chance to win.
How To Enter
Enter a separate comment for each method of entry. Do the mandatory entry first–if your email address isn't in your Blogger profile, include it in this comment.
Please know that I will delete comments that don't answer the mandatory entry question. Comments like "this is great," "enter me," etc. will be deleted, as will daily and hourly tweets.
Mandatory Entry: Go to the Newman's Own Organics website and tell me a product you'd like to try.
Bonus Entries:
"Like" Newman's Own Organics on Facebook. +1
Follow me on Google Friend Connect (see sidebar). +1
Follow me on Twitter (@ohkeeka). +1
"Like" The Type A Housewife on Facebook. +1
Subscribe to my blog via reader or email (see sidebar). You can do both of these, but you only get one entry. +1
Tweet about this giveaway ONCE (not daily, not hourly) +1:

RT @ohkeeka #Win Newman's Own Organics snacks on The Type A Housewife http://bit.ly/kUiPqs #giveaway
Things You Should Know:
One winner will receive packages of Pretzel Rods, Pomegranate Licorice, Peanut Butter Newman-O's, and Ginger Hermits.

Entry open to anyone 18 years of age and over.

Open to those in the US only.

Giveaway ends on Saturday, June 4 at 9pm EST.

Winner will be chosen via random.org

Because I know emails can get lost in the ether, I will email the winner twice. If I don't hear from you within 24 hours of the first email, I'll try again. If, after 48 hours, I still haven't heard from you, another winner will be chosen.

Winner will be announced in a separate post on my blog.

I will check to make sure the winner did not cheat by entering under multiple accounts/email addresses. So really, don't even try it. Cheating is not a good look.

Disclosure: I received a sample from Newman's Own Organics to facilitate this review, but all opinions are my own–I only review products on my blog that I truly love and recommend to my readers. No monetary compensation has been received.
Thank you to Newman's Own Organics for sponsoring this giveaway!