Although I tend to wake up early, I am not a morning person. It takes me a while to wake up and that first hour of the day is brutal. With squinted eyes and messy hair, I make my way downstairs and have the easiest thing I can find for breakfast. While I love starting the morning with a freshly brewed cup of tea, I only do so when my husband makes it for me. Yes, that's right, The Type A Housewife is too lazy, tired, and disoriented to make her own tea in the morning. Shameful, isn't it?
Of course, that's how things used to be. Now, I make myself tea on a daily basis. And sometimes I even make my husband coffee to make up for all the years that he answered my groggy pleas for tea. What changed? We now have a Keurig Special Edition Brewing System, that's what! Now making coffee and tea is so easy, I can manage it even at my sleepiest. And, since I work from home, I can quickly make myself cups throughout the day–so nice!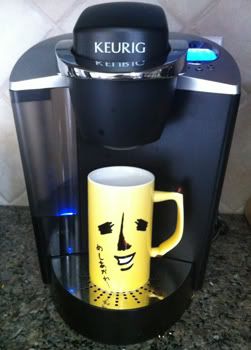 When our last coffee maker bit the dust, my husband and I debated about whether to purchase a Keurig or go with another traditional brewer. My vote was for the Keurig–I loved the variety of beverages it makes and the ease of use–but my husband, ever the traditionalist, wanted a "regular" coffee maker. Once I received a Keurig Special Edition to review, my husband quickly became a convert–the Keurig blows our other coffee maker out of the water.
It takes only a minute to brew coffee, tea, hot chocolate, and even apple cider (!) with the Keurig–instead of using tea bags or messy coffee filters, Keurig uses K-Cups. If the hot weather has you craving iced tea or coffee, you can make that too. There's even a half iced tea, half lemonade drink–can you say summertime favorite? So good! I'm more of a tea drinker and my husband prefers coffee, so the versatility of the Keurig is perfect for our household. The Keurig Special Edition is programmable, with a setting for water temperature, digital clock, and auto on/off. I was expecting that setting up the Keurig would take a while and I was steeling myself for a big hassle, but within 10 minutes of opening the box, I was enjoying my first cup of freshly brewed green tea. How many coffee makers can you say that about?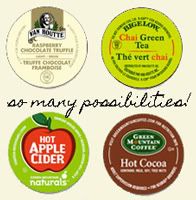 So we've covered the ease of use and you already know that Keurig has a variety of K-Cups. What about the taste? Does the tea taste like coffee? And how can one minute of brewing match up to a regular coffee maker? These are questions that a friend of mine asked when I told her about the Keurig–being a coffee and tea snob, she imagined an end-result that would be like "fast food coffee." Nothing could be further from the truth. Tea tastes the same and, in our experience, coffee tastes better in the Keurig than it does with our fancy (and expensive!) traditional coffee maker. And it tastes better with half the effort! Okay, probably less than half the effort. Since you can make your own coffee in the Keurig too by purchasing the My K-Cup filter, there's really no reason to keep our old coffee maker anymore. It's Keurig all the way for us!
Where can you buy it?
You can find Keurig products at a retailer near you by using the
store locator
on keurig.com. You can also buy online from the Keurig website or
amazon.com
.
…but you can win it here too!
Keurig has generously offered to give one Type A Housewife reader a
Keurig Special Edition Brewing System
(ARV $149.95)! Awesome, right? Follow the instructions below for your chance to win.
How To Enter
Enter a separate comment for each method of entry. Do the mandatory entry first–if your email address isn't in your Blogger profile, include it in this comment.
Please know that I will delete comments that don't answer the mandatory entry question. Comments like "this is great," "enter me," etc. will be deleted, as will daily and hourly tweets.
Mandatory Entry: Go to the Keurig website and tell me the two K-Cups you'd most like to try.
Bonus Entries:
"Like" Keurig on Facebook. +1
Follow Keurig on Twitter. +1
Follow me on Google Friend Connect (see sidebar). +1
Follow me on Twitter (@ohkeeka). +1
"Like" The Type A Housewife on Facebook. +1
Subscribe to my blog via reader or email (see sidebar). You can do both of these, but you only get one entry. +1
Tweet about this giveaway ONCE (not daily, not hourly) +1:

RT @ohkeeka #Win a Keurig Special Edition on The Type A Housewife http://bit.ly/qm2DYj #giveaway
Things You Should Know:
One winner will receive a Keurig Special Edition Brewing System.
Entry open to anyone 18 years of age and over, one per household.

Open to those in the US only.

Giveaway ends on Tuesday, July 19 at 9pm EST.

Winner will be chosen via random.org

Because I know emails can get lost in the ether, I will email the winner twice. If I don't hear from you within 24 hours of the first email, I'll try again. If, after 48 hours, I still haven't heard from you, another winner will be chosen.

Winner will be announced in a separate post on my blog.

I will check to make sure the winner did not cheat by entering under multiple accounts/email addresses. So really, don't even try it. Cheating is not a good look.

Disclosure: I received a Keurig Special Edition Brewing System to facilitate this review, but all opinions are my own–I only review products on my blog that I truly love and recommend to my readers. No monetary compensation has been received.
Thank you to Keurig for sponsoring this giveaway!