Last week my husband and I drove down to Raleigh to buy a house. Although we're originally from Illinois, we've been living in Wisconsin since 2005. We really liked it here at first, but the weather and the lack of a good mall (well! that's important!) began to wear us down. Okay, the mall thing? Mostly me. But neither of us can stand the weather here. I mean really guys, why did anyone decide to settle in the Upper Midwest? I'm convinced the first settlers must have come here during the two week period of nice weather in the spring. Otherwise, surely they would have just moved on until they hit California, right?
Anyway! We have been wanting a house for a long time. Living in apartments, you get tired of hearing your neighbors fighting (neighbors, if you're reading this, I think it's time to just throw in the towel and break up–you fight more than you get along), tired of finding Taco Bell cups littered in the hall, tired of not being able to remodel. You get the point. We've worked really hard to get to a place financially where we could become homeowners. It's been frustrating to see other people we know being gifted houses and down payments while we've been working so hard, but you know what? I feel so good knowing that we got here on our own and we're not indebted to anyone. Except the bank where we get our mortgage, I guess.
Raleigh is a beautiful city–needless to say, we found the weather to be much more agreeable there than it is in Wisconsin. The day before we left, we got (more) snow here and it stuck to the ground too. In April! It was wonderful to be someplace where it was warm and the flowers were blooming and everything was green. And the Whole Foods there? O M G. OMGOMGOMG.
We had originally planned on looking at houses in 4 different areas, but once we saw the suburbs on the north side of the city, we decided that that was where we wanted to be, so we crossed two towns off of our agenda. We ended up looking at 17 houses and we bought one of the ones we saw on the first day. It's brand new, but the subdivision it's in is almost finished. It has 3 bedrooms plus a bonus room, 2 1/2 bathrooms, and a cute little screened porch that I'm sure our cats will love. My favorite room is the kitchen, though. As you know, I love to cook, so the kitchen was the most important room of the house to us. Ugly kitchen? No deal. Small kitchen? No thanks. This kitchen had everything we wanted–it's big, it has granite countertops, dark cabinets (these are harder to find than you'd think!), and double ovens.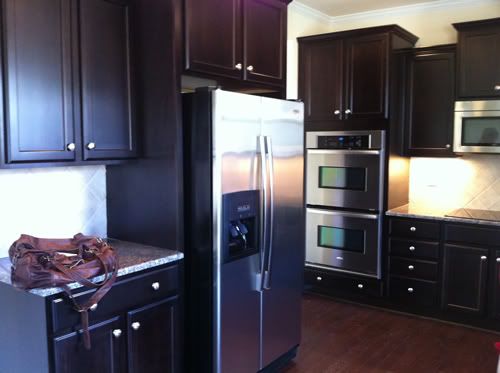 We'll be closing near the end of May, so I'm trying not to get too excited until everything is squared away. Now we've got to start packing and I've got to start freaking out over every little thing and giving myself an ulcer. Because that's how I roll.