It's been a while since I did an Etsy Feature Friday, but I'm back! Well, I've been back. Now Etsy Feature Friday is back.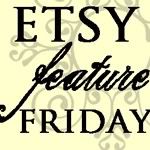 This week's featured artist is Holly from
Hollyrocks
. I found her Etsy shop after she left a comment on my blog. You know how moths are drawn to flames? Well, it's the same thing with me and colorful, shiny things. So when I clicked on over to Hollyrocks, I was immediately enraptured. Colors! Glitter! And if that weren't enough, tiny replicas of food!
One of the things that fascinated me about Japan was the proliferation of food replicas. They looked so realistic, it was tempting to reach out and try to eat them. The delightful little
cakes
and
cupcakes
and
peas
that Holly so carefully crafts instantly brought back memories of visiting Japan. But polymer clay charms and magnets aren't the only items sold by Hollyrocks–a multi-talented artist, Holly also sells repurposed/upcycled items like darling Barbie shoe earrings (remember Barbie shoes? I used to like to chew on them when I was a kid–who knows what chemicals I ingested from that), colorful photographs, and bookmarks made with vintage paper.
Not only was Holly gracious enough to take the time to give thoughtful answers to all my EFF questions, but she's also awesome enough to give one Type A Housewife reader a Glitter Spiral Pendant in his or her choice of color. Woo hoo! Read on to find out more.
Tell us a little bit about your Etsy shop, Hollyrocks.
Hollyrocks is a place where I attempt to offer a bit of an escape from the ordinary and the mundane. I sell jewelry, accessories, and decor made from polymer clay and vintage items. If you visit my shop, you'll find things that are bright, cheerful, and fun.
You mention in your Etsy profile that you've been crafting since you were a teenager. How has your work evolved since then?
I've mostly evolved in the materials I use. Jewelry making began to interest me as soon as I realized that my style was not represented on store shelves. Even the beaded jewelry and macrame work I started with were not satisfying my creative urges, so I began to experiment with polymer clay when I was about 20. Since then, I've been continuing my work with clay and reworking vintage items I find at my other job, setting up estate sales.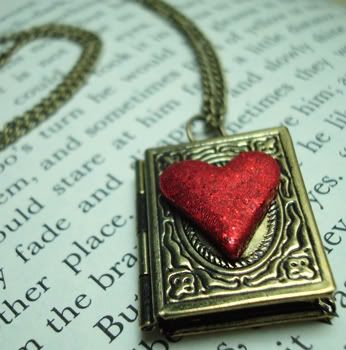 I'm totally intrigued by the food charms that you make. They look so realistic! How long does it take you to make such small, detailed items?
Depending on the item, it can take hours! I have the tendency to be a perfectionist when it comes to my business, and this comes through in the meticulous steps I take to complete each piece. Even though it requires so much time and effort to create some of my food items, it's a process I enjoy. Seeing a lump of colored clay slowly being transformed into a tiny cake or a sugar cookie brings a smile to my face every time.
What makes your Etsy shop stand out from all the others that are out there?
I like to create an experience for my customers. It begins when they discover my shop, and even includes the way I package my orders (something I take great pride in). I have been told that my shop truly reflects who I am, and that's a tough job considering how many facets and quirks I have! There are so many wonderful shops on Etsy, including quite a few polymer clay artists. But hopefully the exact combination of sweet treats, woodland magic, vintage charm, and a little sprinkle of glitter can only be found at Hollyrocks.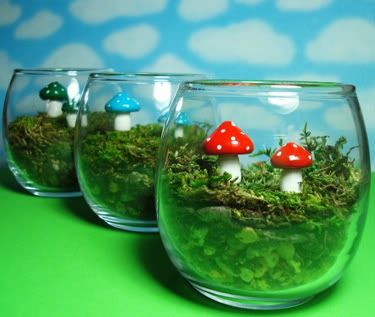 Where do you get inspiration for your work?
Sometimes I am inspired by the same things everyone else is inspired by- nature (that's a big one for me), music, color, seasons, supplies. Other times, I find my inspiration in really weird places. My job working estate sales is a major source of inspiration. For example, I bought a vintage mug rack in a funky orange color and knew it would be perfect for displaying bracelets at craft shows. But not just any bracelets would do it justice, so I created a whole line of stretch bracelets made from vintage beads and thus a new item was born. Most often, I'm inspired by whatever mood I'm in or events that are occurring in my life. If I'm spending lots of time in the garden, you can tell by the items I add to my shop.
What are your favorite items in your shop? And which ones are your best sellers?
My favorites are the listings I create for charity. I'll see a need in the world, and I will feel moved to do something about it through my work. Every time someone purchases one of these listings and enables me to make a donation, I feel such a strong sense of togetherness shared between myself, the buyer, and the entire human race as we work together toward common goals. *Side note: searching my shop for the word "charity" will bring up these listings. One is the "Have a Heart Pendant" for which proceeds are donated to the American Cancer Society, the other is the "Global Love Necklace" for which proceeds are donated to Doctors Without Borders* As for the best sellers, over the years I've noticed that cupcakes and mushrooms seem to be my most popular items.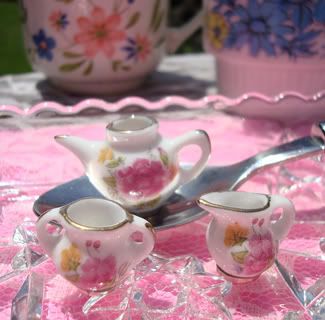 Where do you see Hollyrocks in two years? Or where would you like to see it?
I definitely plan to continue making items like the ones I mentioned above, keeping an awareness of how I can use my creativity in a positive way. I would also like to place more of an emphasis on fun things for the home, and I plan to open a separate shop to sell vintage items since I come across so many unique treasures at my day job and I want to make sure they end up in the hands of someone who will cherish them.
I always ask my featured artists for words of wisdom for people considering starting a shop on Etsy. Since you teach a class on the topic, can you tell us the biggest mistake you see new Etsy sellers make? And what's your best piece of advice for starting a successful Etsy shop?
I think one of the biggest mistakes new sellers make is thinking that opening up their shop is all they have to do. That is definitely the first step, but the work is not done yet at that point. Promotion is a huge part of selling online, and you have to show yourself to the world around you or else they'll never know how amazing you are! I think my best piece of advice for starting a successful Etsy shop would be to find a unique product that you love to make and photograph it in a way that makes people want to reach out and grab it. Since your customers can't see your work in person, it's very important to satisfy their senses in your photos and descriptions.
Enter for your chance to win a custom Glitter Spiral Pendant from Hollyrocks
Holly has generously offered to give one Type A Housewife reader a
custom Glitter Spiral Pendant
in his or her choice of color from her Etsy shop! Follow the instructions below for your chance to win.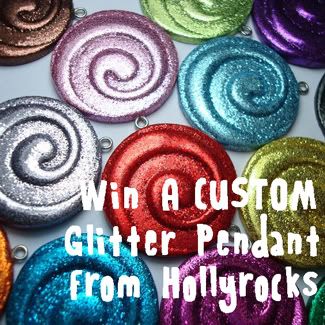 How To Enter
Enter a separate comment for each method of entry. Do the mandatory entry first–if your email address isn't in your Blogger profile, include it in this comment.
Please know that I will delete comments that don't answer the mandatory entry question, so comments like "that's great," "enter me," etc. will be deleted.
Mandatory Entry: Go to the Hollyrocks Etsy shop and tell me an item (other than the Glitter Spiral Pendant) that you love!
Bonus Entries:
Follow Hollyrocks on Google Friend Connect. +1
Heart Hollyrocks on Etsy (put username in comment). +1
Follow Hollyrocks on Twitter. +1
"Like" Hollyrocks on Facebook. +1
Follow me on Google Friend Connect (see sidebar). +1
Follow me on Twitter (@ohkeeka). +1
"Like" The Type A Housewife on Facebook. +1
Subscribe to my blog via reader or email (see sidebar). You can do both of these, but you only get one entry. +1
Tweet about this giveaway ONCE (not daily, not hourly) +1:

RT @ohkeeka Enter to #win a custom Glitter Pendant from the Etsy shop @hollyrocks on The Type A Housewife http://bit.ly/ijTZ80 #giveaway
Things You Should Know:
One winner will receive a custom Glitter Pendant from Hollyrocks.

Entry open to anyone 18 years of age and over, one entry per household.

Open to those in the US only.

Giveaway ends on Friday, June 24 at 9pm EST.

Winner will be chosen via random.org

Because I know emails can get lost in the ether, I will email the winner twice. If I don't hear from you within 24 hours of the first email, I'll try again. If, after 48 hours, I still haven't heard from you, another winner will be chosen.

Winner will be announced in a separate post on my blog.

I will check to make sure the winner did not cheat by entering under multiple accounts/email addresses. So really, don't even try it. Cheating is not a good look.

Disclosure: I received no compensation in return for this feature.
Thank you to Hollyrocks for sponsoring this giveaway!