If you are vegetarian, or even just into healthy eating, you've undoubtedly heard of Amy's Kitchen Natural and Organic Foods. I haven't eaten meat since I was in middle school, so Amy's has been a go-to brand for me for quite some time. Even today, it's hard to find many frozen meal options for vegetarians that are both meat-free and organic, aside from the usual cheese pizzas and mac and cheese. I love Amy's because not only do their products fit into my dietary requirements, but they're innovative and, most important of all, they taste good. Really good!
For this review, I was able to try two different Amy's products. Wanting to get something new, I chose two of Amy's Light & Lean options: Soft Taco Fiesta and Black Bean & Cheese Enchilada. The one issue I've always had with Amy's frozen meals is that some of them are a wee bit high in calories, so I was excited when I heard that Amy's was coming out with a new line of meals that were only 6 Weight Watchers PointsPlus each. I've never had an Amy's product that I didn't like (really!) and these meals were not an exception. I couldn't believe how low in points they are, given how good they tasted. These meals will definitely make it into my regular lunch rotation–even though I work from home, my work day is hectic and most of the time I end up eating something that I can microwave quickly and eat while on the computer.
Of course, I love Amy's so much, I can't help but want to write more about it. You all know I love writing about food, right? So here are my other favorites from the Amy's Kitchen line up:
No Chicken Noodle Soup
My mom used to always get Campbell's Chicken Noodle soup for me when I was a kid. This tastes just like it, but better. Minus the mystery meat! I had surgery twice last year and this soup was all I wanted to eat afterwards, and whenever I'm sick, I make my husband pick up a can or two on the way home from work.
Veggie Steak & Gravy Meal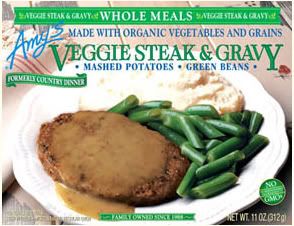 Amy's Kitchen is serving up comfort food realness, y'all. This Salisbury steak is the best kind of meat substitute–the kind made of grains and nuts and good things. And mashed potatoes too? Heck yeah!
Shepherd's Pie
I have this for lunch all the time–I like the potatoes on top to be golden brown, so I always bake it in the oven instead of microwaving it. It's only 160 calories too! I've made my own shepherd's pies in the past and I swear, they don't taste nearly as good as this one.
Roasted Vegetable Pizza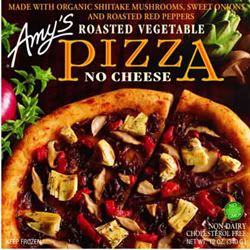 If this pizza ever goes off the market, I don't know what I'll do. There's no cheese on this–instead, marinated and roasted veggies provide all the flavor and yumminess you need. Serve this with a big salad and you've got a perfect quick dinner for those hectic weeknights.
Tofu Scramble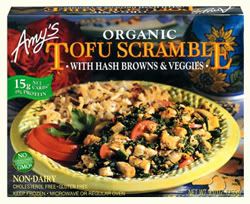 Back when I worked outside the home, I would have this at least once a week. The combination of hash browns and tofu scramble is the perfect way to start the day. It's the next best thing to having someone make breakfast for you!
So, as you can see, I'm a very enthusiastic fan of Amy's Kitchen.
Where can you buy it?
You can buy Amy's products at most grocery stores and Whole Foods–use the
store locator
on the Amy's Kitchen website to find a store that sells them near you.
…but you can win it here too!
Amy's Kitchen has generously offered to give one Type A Housewife reader a prize pack that includes three free product coupons (a $30 retail value) plus a cute Amy's lunch tote! Awesome, right? Follow the instructions below for your chance to win.
How To Enter
Enter a separate comment for each method of entry. Do the mandatory entry first–if your email address isn't in your Blogger profile, include it in this comment.
Please know that I will delete comments that don't answer the mandatory entry question. Comments like "this is great," "enter me," etc. will be deleted, as will daily and hourly tweets.
Mandatory Entry: Go to the Amy's Kitchen product page and tell me something you would love to try!
Bonus Entries:
"Like" Amy's on Facebook. +1
Follow Amy's on Twitter. +1
Follow me on Google Friend Connect (see sidebar). +1
Follow me on Twitter (@ohkeeka). +1
"Like" The Type A Housewife on Facebook. +1
Subscribe to my blog via reader or email (see sidebar). You can do both of these, but you only get one entry. +1
Tweet about this giveaway ONCE (not daily, not hourly) +1:

RT @ohkeeka #Win 3 free product coupons & a lunch tote from Amy's Kitchen on The Type A Housewife http://bit.ly/fuTp3j #giveaway
Things You Should Know:
One winner will receive a prize pack consisting of 3 free product coupons and a lunch tote from Amy's Kitchen.

Entry open to anyone 18 years of age and over.

Open to those in the US only.

Giveaway ends on Sunday, April 10 at 9pm CST.

Winner will be chosen via random.org

Because I know emails can get lost in the ether, I will email the winner twice. If I don't hear from you within 24 hours of the first email, I'll try again. If, after 48 hours, I still haven't heard from you, another winner will be chosen.

Winner will be announced in a separate post on my blog.

I will check to make sure the winner did not cheat by entering under multiple accounts/email addresses. So really, don't even try it. Cheating is not a good look.

Disclosure: I received two free product coupons from Amy's to facilitate this review, but all opinions are my own–I only review products on my blog that I truly love and recommend to my readers. No monetary compensation has been received.
Thank you to Amy's Kitchen for sponsoring this giveaway!